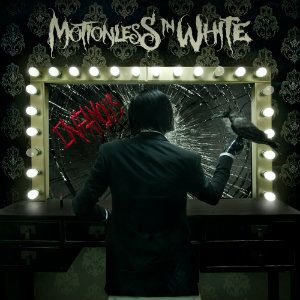 Release Date: November 13th, 2012
Label: Fearless Records
Website: www.motionlessinwhite.net
Facebook: www.facebook.com/motionlessinwhite
Twitter: www.twitter.com/miwband
Rating:

With Motionless In White's eagerly awaited sophomore, 'Infamous', it appears that the American metalcore outfit have regressed from the potential displayed on 2010's debut, 'Creatures'. A band once possessing a sound that could, with enough nurture and fine tuning, become something reinvugurating for the scene has instead been spliced into a frankenstein of MIW's former self and MIW trying a bit too hard to be just like their influences. As such, this monster is barely alive.
Things start off well, opener 'Black Damask (The Fog)' comes back with things heavy, where we first see Chris Motionless' vastly improved screams and roars, at times sounding somewhat similar to Dani Filth. 'Devil's Night' follows in a similar fashion, returning to the theme of misfits uniting against the naysayers (as already tackled on 'Immaculate Misconception' from their debut, 'Creatures'). Here, however, the structure of the verses sound awfully similar to that of 'Psychosocial' by Slipknot. This is just the beginning of this album's biggest flaw.
It's absolutely fine – encouraged at times actually – for a band to draw from their influences and implant that into their own. What MIW have done, however, is almost become a copycat of their aspiring peers, most notably Marilyn Manson, who the band have toured with inbetween the release of their albums. Case in point rests within the likes of 'Infamous', 'A-M-E-R-I-C-A' and most of all with 'Hatefuck', which sounds like a slightly heavier version of Manson's single '(s)AINT'. This slight tip of the hat was used once or twice throughout 'Creatures', but this time around Chris Motionless has gone completely overboard.
Still, there are some noteworthy tracks hidden deep inside this full-length. 'Burned At Both Ends' might be one of the catchiest songs that the band has released to date and 'Sinematic' is potentially the only song that has Manson overload on it that is bareable. It's good to see the band are trying new things and entering previously unexplored areas, but now that they have it's safe to say they should probably steer clear of entering them once again.
It's not that 'Infamous' is an awful album, it's just that it tries to hard to be something that it's not. Motionless In White need to scrap this design, return to the blueprint of 'Creatures' and work from there.
Written by Zach Redrup