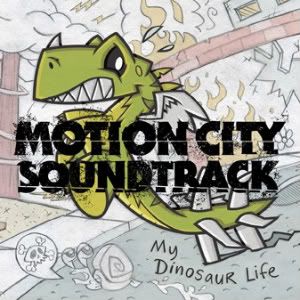 Release Date: January 19th, 2010
Label: Columbia
Website: www.motioncitysoundtrack.com
MySpace: www.myspace.com/motioncitysoundtrack
Rating:


The big names of pop-punk today can easily be listed; Paramore, You Me At Six, All Time Low, etc. It's a shame however that Motion City Soundtrack have been on the circuit for much longer than the aforementioned acts yet don't receive half the attention. Their latest Mark Hoppus produced effort 'My Dinosaur Life' has the magic touch which with the right push could well give them a little more limelight.
Unlike most acts in their scene, Motion City Soundtrack are more focused and driven on the punk aspects of the genre than pop. Opener 'Worker Bee' brings remindings of grandfathers New Found Glory if they were a little more nerdy, complete with the harmonous dual guitar riffs over one another and back-up vocal melody opening the record with much aspiration. More nerd points are accredited thanks to the film refering 'Pulp Fiction' and the stereotypical yet lovable subject matter of 'Her Words Destroyed My Planet', but clearly nerds have as much fun as the 'cool kids' in the pack.
It seems in time the band have managed to sort kinks and areas for work in past albums, proving to have the skill and talent to pull off mellow and emotive ('Stand Too Close') just as well as fast and furious ('Disappear') to great approval. 'Delirium' sticks out like a sore thumb as the album's biggest highlight, slowly luring the listener in with a bass line and simplistic lyrical line before flipping the overdrive switch in time for the chorus, injecting the desire to repeat the track over and over again just to sing "I swim in pharmaceuticals / The medicine deactivates the things I take" along with frontman Justin Pierre. Sadly 'My Dinosaur Life' has some offerings for potential extinction in the overly childish cuss-fest '@!#?@!' and the borefest of 'History Lesson' knocking the album down a few notches and probably would've worked better without their inclusion at all. Despite this, Motion City Soundtrack have managed to bring to the table something a little different from the norm in mainstream pop-punk today.
Crafted with the same contagious and head looping properties and ingredients as their more successful colleagues, 'My Dinosaur Life' is 12 tracks of bubbly nerdy fun… well, almost.
Written by Zach Redrup