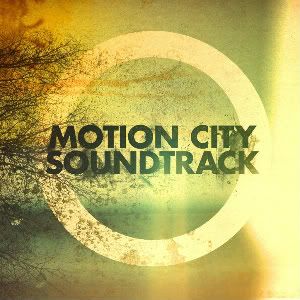 Release Date: June 12th, 2012
Label: Epitaph Records
Website: www.motioncitysoundtrack.com
Facebook: www.facebook.com/motioncitysoundtrack
Twitter: www.twitter.com/motioncitymusic
Rating:

I was more than pleased to find out that pop-punk favourites Motion City Soundtrack have returned to the music scene with their fifth album offering, 'Go'. It's an album that sees the band take a far mellower approach than they have on previous records (not too dissimilar to the one Jimmy Eat World took with 'Invented'). Unfortunately, this new favouring of pop over the punk aspects of their sound is on the whole underwhelming and causes the album to fall a little flat. This could be a move that may disappoint some fans.
Opening track 'Circuits And Wires' provides us with a slight taste of the MCS that we know and love once it kicks in with the expected catchy chorus. This is before first single 'True Romance' transitions us to their new pop-infused sound, but still with the trademark self-deprecating lyrics we can all relate to. From this point onwards, the lack of urgency across the album becomes apparent and promising songs such as 'The Worst Is Yet To Come' have you bracing yourself for a faster pace that just isn't picked up.
Focusing on the vocals provides some definite highlights such as the lyrical masterpiece that is 'Timelines', which boasts such gems as "I discovered sex at 17 / and soon thereafter self-esteem". Also, the heartbreaking delivery of the message behind 'Happy Anniversary' shows the real strength the band has even without the racing rhythms that get the whole room dancing. Sadly, this is all the album has to offer, as tracks such as 'Bad Idea' and 'Everyone Will Die' come across as generally unremarkable. Album closer 'Floating Down The River' summarises the album well, being just upbeat enough to stand out but still not a shade on their previous efforts.
It's important to note that 'Go' isn't a bad album, it's just taking a different approach to what we are used to and, as in most cases, has a few problems that need sorting. This album definitely requires a few listens to really appreciate its strong points, such as their lyrical prowess that is well demonstrated across the record. However, as a huge fan of Motion City Soundtrack, I was always waiting for that hook, that chorus to grab my attention and remind me why this band are a firm favourite. Disappointingly, it just didn't appear.
Written by Jonathon Barlow