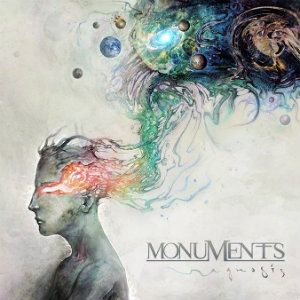 Release Date: August 27th, 2012
Label: Century Media Records
Website: www.thisismonuments.com
Facebook: www.facebook.com/thisismonuments
Twitter: www.twitter.com/thisismonuments
Rating:

Although taking a rather lengthy three years to release their debut album, the hype surrounding London qunitet Monuments has waned surprisingly little. Now, with a finally cemented line-up and an undoubtedly welcome lift from Century Media, 'Gnosis' comes at a time when its looks as though they may have missed the djent boat althogether. Fortunatley, the quality here looks as though it may just drag that boat back to the shore.
Stylistically similiar to djent godfathers Periphery, it would be shortsightedly churlish to label Monuments as mere clones. The monolithic grooves and jarringly spikey riff work of trakcs such as 'Doxa' bring a level of instrumental astonishment which many outfits would struggle to generate, the mechanical, meat and potatoes juddering offset fantastically by a finger cramping technicality. 'The Uncollective' sees the band at their zesty best, as guitar leads ebb to and fro amid throbbing rhythms and glistening atmoshperic touches, constantly toeing the line between intricate attack and absording melodicisms.
Indeed, impressive musicianship apart, it is vocalist Matt Rose who manages to turn in the most striking performance, anchoring the instrumental turbulence with a dynamic and often stirring delivery. 'Degenerate' marries the conventional enraged bellows with soaring cleans, whilst '97% Burnt' employs briefly a more understated, delicate approach before some bile spitting screeches land with an almost refreshing hip-hop flow and a towering chorus melody takes hold. It's commendable how Rose has commanded these rather demanding songs and brought about an infectious, magnetic flavour which could have been so easily lacking.
'Gnosis' certainly ticks all the boxes necessary of the modern metal release. Dynamic, plushly produced, in turns both blood thisty and elegant, there's enough songwriting scope and flustering instrumental wizardry to keep us engaged and more than enough hooks to keep us coming back. For all those questioning whether we need yet more djent heroes, Monuments prove that there is indeed a few more drops of excellence to be squeezed from the genre yet.
Written by Tony Bliss
Founder & Editor for DEAD PRESS!