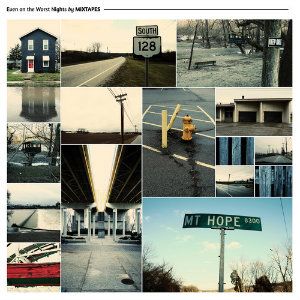 Release Date: June 25th, 2012
Label: No Sleep Records
Website: www.mixtapesohio.com
Facebook: www.facebook.com/mixtapesohio
Twitter: www.twitter.com/mixtapesohio
Rating:


In the current music scene, we're regularly bombarded with overproduced, auto-tuned poor excuses for music. Ohio based Mixtapes'Even On The Worst Nights'. Boasting a stripped back, raw sound that is steadily pushed into a heavier setting results in a very enjoyable 40 minutes. This makes for a sound that will keep this band on the map and stand them apart from the crowd.
What is immediately noticeable is the dynamic between vocalists Ryan Rockwell and Maura Weaver. Throughout the album, not only do they harmonise perfectly, but neither voice overpowers the other. Impressively, Weaver's vocals maintain the mellow background when Rockwell's become more angst-ridden on tracks such as 'I'm Wearing The Device (Bridge, Water)' and 'Indian Summer'.
Instrumentally, the band don't rely on catchy hooks or the ever so popular breakdowns, even as they shift from their acoustic sound. Instead, they keep their rhythms fairly straightforward and utilise their talent for memorable lyrics on 'Anyways' and gang vocals ending the oh so upbeat 'I'll Give You A Hint, Yes''Golden Sometimes'.
Mixtapes are a hard-working band, constantly touring and developing their sound. With new releases such as this under their belt, they are definitely heading towards greater things. The degree to which the vocalists compliment each other is rare to find and work successfully, but they seem to be managing it. If they keep on this track, the future looks very bright for this band.
Written by Jonathon Barlow