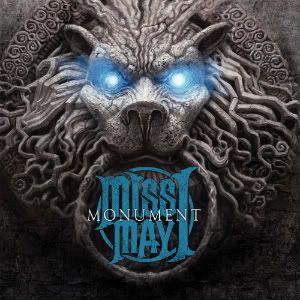 Release Date: August 17th, 2010
Label: Rise Records
Website: None available
MySpace: www.myspace.com/missmayi
Rating:

With the every growing and constant stream of regurgitated bands over and over again coming into the scene, it's hard to find something that's refreshingly new or at least pulls it off without sounding like a cheesey imitation or simply just shit. Miss May I's debut 'Apologies For The Weak' only just crossed the line into an acceptable attempt of the metalcore genre, but more would need to be done and worked upon to sit firmly in the safe zone.
'Monument' has successfully done that, propelling them way into the areas of acceptance and approval in the league of heavy greats. For their second outing they've went back to their blueprint and bulked it up and expanded on all the right bits of 'Apologies For The Weak', resulting in a band who've passed their testing stages and can now look down at many of their peers.
'Our Kings' opens the metal whirlwind and throws you straight into the intensity behind this record, pushing against you with distorted and sludgey guitar lines, bulldozer strength drum work, and Mr. Hyde and slightly Jekyl but still a bit Mr. Hyde vocal work. It's clear from the first three tracks alone how much of an improvement this is on their debut, showing sheer improvement on almost all spectrums of the band.
Though clean vocal work has definitely come through much stronger in this sophomore record, most notably in 'In Recognition', it definitely suits their style and shows a much maturer band. On the flipside, tracks like 'Collosal' are clearly some of their most heaviest pieces to date, dipping shrieking and almost underworld-esque vocals into a bath of granite-like guitar and bass lines around a double bass drum current.
'Monument' shows Miss May I slipping into a far more comfortable and confident sound than they portrayed with debut 'Apologies For The Weak'. It's tighter, slicker, and basically a far more enjoyable listen.
Written by Zach Redrup