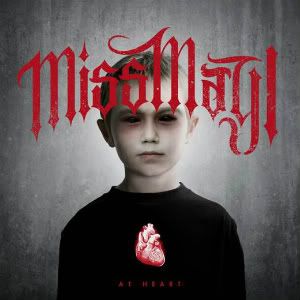 Release Date: June 12th, 2012
Label: Rise Records
Website: None available
Facebook: www.facebook.com/missmayimusic
Twitter: www.twitter.com/missmayiband
Rating:

'At Heart' feels like an album brimming with anger and animosity towards the world. It's also an extremely personal record coming straight from the heart of frontman Levi Benton, which makes it a captivating and gratifying listen.
The humble and initmate lyrics that come from songs like 'Hey Mister', 'Opening Wounds' and 'Found Our Way' are fused with Godzilla-like guitar melodies that smash their way through and terrorize each track with no effort whatsoever. No more personal can you get than on opening track, 'Hey Mister' where Benton screams alongside bassist Ryan Neff's cleans "How could you just let me go? I'm all alone but you can't feel that / Look at me now, now I've become, become the man you'll never know". The song is about how Levi Benton's father abandoned him and it's obvious to see and hear the pain conveyed through the lyrics.
Miss May I have a great sound, they merge ear-splitting screams with a blistering rhythm section for the most part, along with bassist Neff having a great clean range for a plethora of sing-along choruses. They might be a band that gets a bit of stick due to being part of the overgrowing metalcore crowd, but there's no denying that 'At Heart' is a fantastic listen and it should be taken on its own merits.
It's an album that needs to be turned up loud and repeated a few times to fully appreciate it, because it would be easy to label it as just another metalcore outfit with an angst-fuelled album. However, there's much more than that underneath the surface; the album has a great mix of personal tracks like the mellow 'Found Our Way' side by side with the intensely catchy 'Day By Day'.
If you want a record with real bite but at the same time offers up raw emotion that doesn't verge on the sentimental or egotistic, then this is perfect. 'At Heart' really hits the spot in terms of offering up a diverse and appeasing collection of songs which might not be for everyone, but so what? If all metalcore can be this intelligent and astute then the much-maligned genre might have a bright future ahead of it.
Written by Greg Spencer