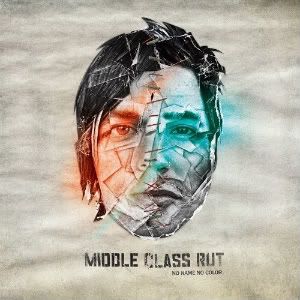 Release Date: November 22nd, 2010
Label: Bright Antenna Records
Website: www.mcrut.com
MySpace: www.myspace.com/middleclassrut
Rating:

It's been some time since a two-piece group have crafted colossal music like Middle Class Rut. It's hard to believe that there are only two people responsible for such artsy and authentic tunes that sound like a musical army rather than two guys and their instruments. The two guys are outstanding musicians with exceptional musical perspective that embodies a wide array of rock elements on their latest masterpiece, 'No Name No Color'.
Putting their intuitive musical competence up front and their ballsy outlook second creates a nearly untouchable musical balance that bands take a lifetime to perfect. This may be due in part because these two have been playing together since their teenage years, which definitely gives them a huge head start over everyone else, but the difference is that this duo just keep getting better with time instead of aging into dullness like some bands. Middle Class Rut have a unique way of keeping their grit at bay, their sorrow within reach, and their indisputable musical honesty on check at all times. There's a bit of everything for everyone on 'No Name No Color'. From indie to rock, to country, to alternative, to pyschedelic, everyone should get a connection from one song or another.
Vocalist/guitarist Zack Lopez, who sounds like a reincarnated but grittier version of Jane's Addiction's Perry Farrell, is undoubtedly one talented musician, with a great voice and magical fret work to boot. From the Perry Farrell-esque screams to the stunning fiery guitar work to his soul-testifying lyrics, Zack's striking overall performance is absolutely terrific in all aspects of the music. Equally impressive and just as musically inclined as his counterpart, vocalist/drummer Sean Stockham pumps out some excellent work behind the kit, and churns out some pretty good vocals himself. Staccatos, accents, killer time signatures, slick tempo changes, ghost notes and paradiddles all combine to create an explosive set of drum riffs, cleverly placed by Sean throughout the record.
Through 12 tracks of obdurate and sonically magnificent tracks, Middle Class Rut have crafted an excellent album. This band seems to be underrated though, and along with a selection of other bands today Middle Class Rut deserve a lot more credit than they're getting. Immerse yourself in 'USA', 'Lifelong Dayshift', 'Are You On Your Way', 'I Guess You Could Say' and 'Thought I Was' to hear for yourself how good they are.
Even though it's pretty trying to classify this band, it's not hard at all to classify the eminence of their musical abilities, evident on 'No Name No Color'. This record is a must hear: it's exciting, ground-breaking, classy and superior.
Written by Rhys Milsom