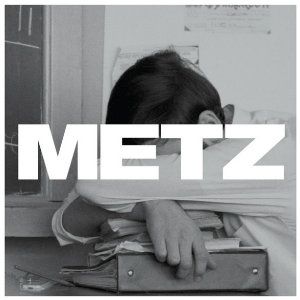 Release Date: October 9th, 2012
Label: Sub Pop Records
Website: www.metzztem.com
Facebook: www.facebook.com/metz
Twitter: www.twitter.com/metztheband
Rating:

Toronto's METZ are one of those bands that fly under the musical radar, but probably deserve your attention more than most of the other mindless dirge that's being churned out do. This self-titled debut LP is a perfect testament as to why this is the case.
METZ are very 'cool', possibly explaining their modest status. Almost elitist without ever claiming to be so, their demographic is 'hip', intellectual and very 'tuned in' people. Although the actual music isn't as challenging as it could be, there certainly isn't any particular commercial potential to it. All of this may seem very undesirable, but there's never the sense of them trying hard to not fit in which quells any negativity.
Immediately, the album blasts into raucous repetition with the appropriately named 'Headache'. This is somewhat the renaissance of grunge. Not the classic Nirvana, Alice In Chains, Soundgarden grunge, but more of a noise-rock feel with nods towards The Jesus Lizard, The Pixies and Mudhoney; bands that you would expect to find on Sub Pop Records, the label that put out this record.
'METZ' strongly resembles this 90s subgenre, but has revamped it in a way so that it can withstand the current musical climate. Like, the time you dug out that old pair of loafers and rocked them harder than when you first slipped them on.
It's hard to pinpoint what makes this record so good because of its hammering, straight-to-the-point attitude. There's an urgency about it which, coupled with the exceptional and accessible song-writing, creates a snowball effect when listening to it. It bounces from song to song with such noisy catchiness that it never feels stagnant or tiresome. It's also one of those records that deserves to be listened to as a whole and treated as one entire piece of music.
Of course, there are stand-out tracks, such as 'Sad Pricks', with the whining bending of guitar strings, a technique that flows beautifully into the next track, 'Rats'. There is, however, a risk of all the songs blending into one, posing the question that perhaps the record could have benefitted from a bit more risk-taking in terms of diversity of sound. METZ have definitely found their 'sound' and are sticking to it religiously.
'METZ' successfully sidesteps being branded as 'hipster', although many would certainley argue that point. It is a fine rebirth of 90s grunge, both looking back whilst stepping the genre forward. I can only hope that there is more experimentation with it in their next release.
Written by Jack Bastard