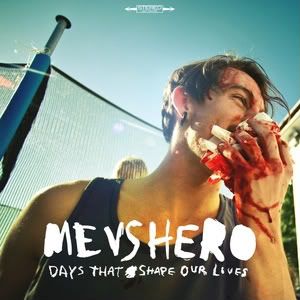 Release Date: October 18th, 2010
Label: Unsigned
Website: None available
MySpace: www.myspace.com/mevshero
Rating:

At last, Me Vs. Hero have finally gone and released their debut album. This is after two different versions of an EP they first recorded in 2007. They have certainly kept their fans waiting, and as a result has led to 'Days That Shape Our lives' being a much anticipated album in the underground pop-punk scene.
Opener and single 'Can You Count, Suckers?' is pure modern pop-punk. It's fuelled with riffs galore and a verse that's sure to get everyone nodding along with it. The chorus isn't bad either, both soaring and catchy. One of the most used features of bands in the pop-punk genre today is gang vocals, and only 40 seconds into the album pass by before Me Vs. Hero utilise them. This is a sign of things to come, as they are used persistently throughout. Though using gang vocals can sound gimmicky with other bands, it's sheer luck that Me Vs. Hero manage to pull it off. They're good at using them appropriately and it comes across as though the band relish the effect they can have on a song. Prime examples of the gang vocals at their most effective are 'Star Raiders And Space Invaders' and the record's title track.
'Cashing Cheques' is a song that definitely holds future single potential. It's fun, yet has heavy breakdowns that are sure to get a few moshpits going when recreated live. Once again, the gang vocals are used at just the right time, and add a sing-a-long element to the song. This track shows that the band are not just happy to reside in one genre as pop-punk, metal and hardcore are used, and it works strongly in their favour.
Stripped down piece 'A Loss In The Ranks' shows another side to the band, an acoustic ballad that is a tribute to their former guitarist Alex McCulloch, who sadly passed away in 2008. It's full of emotion and will induce a lot of feelings for listeners, especially long-time Me Vs. Hero fans. The lyrics are especially heartfelt for such an energetic, happy-sounding band: "You meant so much / to everyone you touched / It's drained the strength I need / to keep me on my feet". As pop-punk bands can be hit or miss with such songs, Me Vs. Hero have done well to make this song work.
The album's pace is quickly brought back though with 'My Warren Sense Is Tingling', packed to the brim with some pretty heavy riffs and beatdowns. Final song 'We're Not Going Home (We Don't Care What Time It Is)' is a song that will make the crowds at their gigs pogo, dance, mosh or all three. It's a statement of intent and shows that the band love what they do.
While they are comparable to American pop-punkers Four Year Strong, New Found Glory and Set Your Goals, Me Vs. Hero are at the forefront of the UK assault on the genre. The album is a soundtrack to future summers, and it has a happy, flowing feel to it. Even though the whiny Americanized vocals from a band hailing from Blackpool may annoy some people, it's a small flaw on such an impressive album that gives them the chance to break out to a much bigger audience.
Written by Rhys Milsom