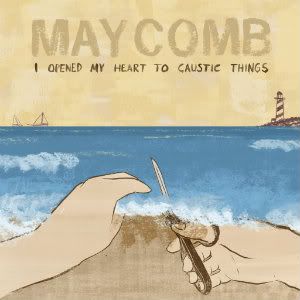 Release Date: November 30th, 2012
Label: I Am Mighty Records
Website: None available
Facebook: www.facebook.com/maycomb
Twitter: www.twitter.com/_maycomb
Rating:


Over the past few years as a band, Maycomb have released a debut EP entitled 'Crystal Tiger Blues', toured across the whole of Britain and even toured with Fireworks and The Wonder Years. 'I Opened My Heart To Caustic Things', the band's debut full-length record, features 10 melodic pop-punk songs that are pushing the band in to the UK's growing pop-punk scene.
The album is extremely easy to listen to right the way through. None of the songs are too long, too short or dull and it's easy to tell that a lot of time and effort has been put into each track. Although the band have a fairly small fanbase, it's the type of music which fans of The Wonder Years, Jimmy Eat World or Yellowcard can easily connect to and probably will in the near future.
There aren't any tracks which stand out a huge amount from the rest. The album overall is honest and clean cut, with a safe British edge to it, perhaps slightly too safe. If word got out about Maycomb, they have the potential to reel in a huge number of fans very quickly, but in order to do this, the band still have work to do and songs to really push out and heighten.
Now that Maycomb have released their debut album, they're a band to watch within the British pop-punk scene. The band has shown with 'I Opened My Heart To Caustic Things' that they have the potential to grow and produce a lot more. They're definitely a band to watch out for in the near future.
Written by Caitlyn Dewar