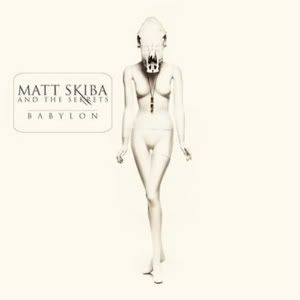 Release Date: May 7th, 2012
Label: Superball Music
Website: None available
Facebook: www.facebook.com/mattskibaandthesekrets
Twitter: www.twitter.com/mattskiba
Rating:


Matt Skiba has created quite a legacy of music. In the early days of Alkaline Trio, Skiba penned some great punk anthems that put his band on the map. Thirteen years on however, and the latest album from the trio 'Damnesia' receives mixed reviews, representing a steady decline into mediocrity over the band's last few albums. Now, then, is the opportune time for Skiba to inject some much needed life into his music, and what better way to do that then with a separate side-project.
'Babylon' by Matt Skiba And The Sekrets is an interesting album, but also underwhelming in its scope and diversity. Here's a collection of ten saccharine songs with identical gothic tinges that play one after the other with little differentiation. Sometimes there's more of a pop-punk bent ('Voices', 'All Fall Down'), at others things feel more electro and gothic ('Haven't You', 'You'), but there's always a sense of mediocrity, with most songs fading out of memory soon after the album is over. Skiba's voice is as solid but unremarkable as ever, while the music behind him follows tried and true chord progressions and goes everywhere the listener predicts.
But, there is good behind all this, in the finer details and the nuances of Skiba's song writing. It's in the pop and shuffle of 'Olivia', with its metallic drum beat and euphoric chorus. It's in the balls-out release of 'The End Of Joy' where for the first time on 'Babylon', the emotions feel raw, real and truly captured on the record. At moments like this, the album is very enjoyable.
Still, in some places, extraneous features such as the electronic scattering of effects or uninspired backing melodies draw focus and feel unnecessary. There's at least one example on the album which shows these features effectively implemented ('Falling Like Rain', 'Luciferean Blues'). This is where my disappointment in this album stems from; it demonstrates how great it could have been in inspired glimpses, but for the most part it fails to maintain these levels.
'Babylon' is rescued by a few memorable tracks. When Skiba allows himself to let loose, it's like having the man from thirteen years ago back again, full of articulate feelings and tight, taught songs. The punkier offerings such as 'Luciferean Blues' and 'The End Of Joy' work great and evoke Alkaline Trio at their best. It is when …The Sekrets wander from this beaten path however that their ideas become less convincing.
If you are looking for a clutch of so-so punk songs with a Burton-esque playfulness and gothic sensibility, then 'Babylon' is perfect for you. But, for a broader audience, I recommend the rawer, louder tracks on offer here.
Written by Grant Bailey