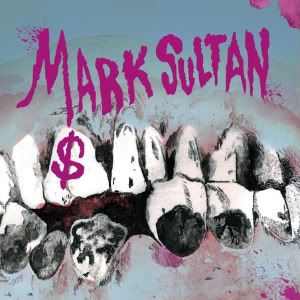 Release Date: November 8th, 2010
Label: Last Gang Records
Website: www.marksultan.com
MySpace: www.myspace.com/marksultan
Rating:


Mark Sultan is better known for his work in the Spaceshits, Les Sexareenos, BBQ, Almighty Defenders and others, but he recently released his own album '$', and it definitely makes the grade.
It's from the opening moments Sultan lets his weirdness fly. 'Icicles' opens with mechanical strum and guitar screeching before a solo cuts through the middle of it. Three minutes in and the drums are thudding underneath a buzzing drone, the clockwork tempo cranking up and his vocals finally come in. It culminates in a frazzled guitar solo before collapsing a full six and a half minutes after it began. It's a dramatic, attention-grabbing opener that kicks up a gear into 'Don't Look Back', taking the more traditional Sultan sound and cranking it up over rattling junkyard percussion. The solo band sound is well and truly ditched, especially when the track erupts full-on halfway through.
'I Am The End' is a particular stand-out. It opens with Sultan and almost no accompaniment aside from the occasional flurry of music box notes and instrumental hum. The focus is squarely on his vocals. When it shifts into this wracked, doomed soul sound, it's spine-chilling, and the feedback clouds that drift into the middle of it only make it more otherworldly. It's the best song here, but there's plenty of competition; it's a set of great, catchy tracks and the more chaotic, varied production only serves to make them feel more vital. And while it's long for a Sultan album, it never feels bloated.
Sultan's a fantastic songwriter and has this great ragged soul-shouter voice usually, but this time the songs are wilder and messier, pushed to the edge and beyond. 'Ten Of Hearts' does that early soul ballad thing he can nail like few others these days, but there's this fat psychedelic guitar line winding through it, and it climaxes amongst this tangle of atonal strings. 'Misery's Upon Us' might boast a typically catchy Sultan melody, but it's given this eerie tension by the keening guitar buried under the verses, only to give a much needed release with a burbling synth melody in the chorus. 'Nobody But You' closes the record the way it began, with strung-out psych, yet this time it ebbs and flows, closing its eyes and drifting into the distance as Sultan promises "I don't want nobody else but you". The guitar scrawls around the edges, and it culminates in one long blissful comedown.
It can be a risky move in the often insular world of garage rock to pull out a stylistic shift like Sultan has here. There will no doubt be those who bemoan his new musical excesses. However on this evidence, he should cut loose more often. '$' marks something new for Sultan, and it marks a new era for his sound.
Written by Rhys Milsom