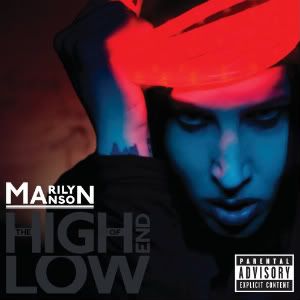 Release Date: May 26th, 2009
Label: Interscope
Website: www.marilynmanson.com
MySpace: www.myspace.com/marilynmanson
Rating:

Marilyn Manson, what can be said that hasn't already? After the dire offering of 'Eat Me, Drink Me' back in '07, new album 'The High End Of Low' would be wanting to put that right and get some respect back in the musical world. It will satisfy fans aplenty but it will be a tough ask to convert listeners into new fans. A decade ago they reached the heights of the Number One Album chart with 'Mechanical Animals' and just four years ago, 'The Golden Age Of Grotesque' reached #4 in the UK – but since then it hasn't been plain sailing for Manson. Marriage (and subsequent divorce), band members leaving and controversy never too far away; all, however, fuelling the music on this offering.
With the return of long-term bassist Twiggy Ramirez, the partnership behind such classics as 'Disposable Teens' and 'The Fight Song' gives renewed optimism that Manson could deliver something like they used to – but this album doesn't have one of those sorts of songs. 'Arma-Goddamn-Motherfucking-Geddon' gets close to them. A mainstay on the airwaves in the run-up to the release, very much so like 'Heart Shaped Glasses' on 'Eat Me, Drink Me'. It's a good song, very Marilyn Manson, but won't necessarily appeal to those who aren't fans, and still doesn't maintain the potential the band have in their arsenal.
'Running To The Edge Of The World' is very different, definitely not a typical Manson song. An acoustic guitar? Seriously! Lyrically it is very much what you'd expect from 'the God of fuck', but the sound is not, resulting in some weird hybrid with teen folk/pop star Taylor Swift… only it works, and in a very weird way. 'I Want To Kill You Like They Do In The Movies' is a nine-minute monster of a tune – very bass driven and arguably the stand out track on the album. Vocally superb and typical Manson lyrics, "Every time I kill you I'm really just killing myself", the singer snarls throughout the latter of the song… you get to hear them if your still awake at that point.
It is a vast improvement on the previous offering, but if you aren't a fan of the band then this isn't the album for you and won't leave you thinking this is quite the return yet. Apart from where some variety from the norm is introduced then it is a very samey offering – you know what you are getting with Manson, and if you haven't liked their work in the past chances are this won't be the album that changes your mind.
Written by Tom Donlan