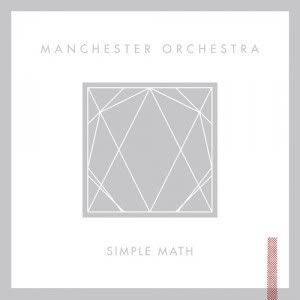 Release Date: May 10th, 2011
Label: Columbia Records
Website: www.themanchesterorchestra.com
MySpace: www.myspace.com/manchesterorchestra
Rating:


Every now and then, an album comes along at the exact right moment. Summer is approaching, grab your Ray-Ban's, lie on some freshly cut grass, pick up a pint of cider and let the wonders of Manchester Orchestra drift you off, in the most soothing manner, to the land of chill.
Hailing from Atlanta, Georgia, the bearded indie rockers are back with third album, 'Simple Math'. The incredibly personal record portrays vocalist, Andy Hulls, reaction to marital, physical and mental failures and how he began putting his life back together.
The ambient album begins with opener 'Dear', delivering a poetic apology, kicking the album off in a beautiful tranquil haze. Sharing similar qualities to the likes of Frightened Rabbit, the five-piece display simplicity at its very best, firing out an incredibly zen, relatable energy.
As the album continues, they begin showing different sides to their music; displaying the anthemic shine of touring buddies Biffy Clyro in the likes of 'Mighty And Virgin', while capturing the Kings Of Leon of the past in 'April Fool'. Although there are certain similarities within this album, it in no way sounds generic. Manchester Orchestra have a refreshing, almost 60s vibe which bleeds through the album, creating the most tangibly comforting atmosphere.
'Simple Math' is one of those albums that everyone will still be talking about at the end of the year. An album which has been structured and produced to absolute perfection. A triumph for Manchester Orchestra, who have raised their game, and proved they are not just a good band, but that they are a really fucking good band.
Written by Chris Loomes