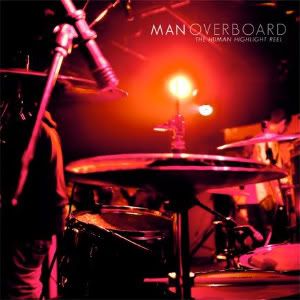 Release Date: May 10th, 2011
Label: Run For Cover Records
Website: None available
MySpace: www.myspace.com/manoverboard
Rating:


Pop-punk is a genre that seems to always sprout new bands. The genre may have lost its appeal a little recently, but the fans are some of the most avid and passionate around. Many a band have come through the ranks and have got a little successful, but have then they have dwindled away and died. The heavyweights of the genre are bands that everyone knows, and I'm not even going to embarrass myself and you by mentioning who these bands are, but they've stayed as popular as ever by sticking to something that works for them and by always releasing quality material.
Man Overboard are a band who have certainly got the ability (on the basis of this album) and time to make it as a band who can stay afloat in the genre without sinking to the bottom, amongst the pretenders. Songs like 'Love Your Friends Die Laughing', with its real-life, intelligent lyrics: "Well the night gets old / So I'm back again / The days just started 'cause I'm up with my old friends / A fat smoke and a funny joke / seems like a sponge letting everything soak / and now I've just got the nerve to get in the cage / So don't bite me now" and its spiky guitar riff and typical pop-punk vocals make it a worthwhile listen.
'I Saw Behemoth And It Ruled' may have a funny title, but the lyrics are quite dark and sad and it is about trying too hard and losing a girl, who the protagonist sees in a metal concert. 'Decemberism', the final track, has quite a sombre riff and the song itself is quite depressing but it works, as compared to the rest of the songs here it shows the band taking a completely different route, and opting for a solemn song rather than a song that is all about loving life and making the most of the good times.
Another shining light on this album is the acoustic tracks. Compared to the full-band songs, they are stripped down to the bare bones, and it is on these tracks that the singer's voice truly comes into its own.
This is an impressive album and it's good to listen to a band who give off the effect of enjoying what they do. No wonder they've toured with bands like Senses Fail and are touring with Polar Bear Club in the Summer. I, for one, will be trying my best to go to one of their shows here in the UK.
Written by Rhys Milsom