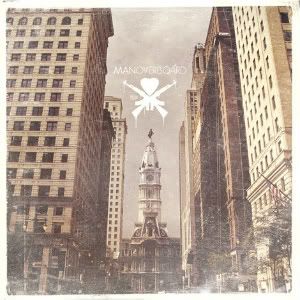 Release Date: September 27th, 2011
Label: Rise Records
Website: www.defendpoppunk.com
MySpace: www.myspace.com/manoverboard
Rating:

Over the past few years, pop-punk has been making a revival, and by pop-punk I do not mean the sugary sweet waste pile that are bands like The Maine and All Time Low, I mean true, honest and hard hitting pop-punk. Perhaps one of the bands that have been at the centre of this revival is New Jersey's finest, Man Overboard, with their now world famous ethos "Defend Pop Punk" that has inspired a new breed of pop-punk bands (This Time Next Year, A Loss For Words) to be brought to the attention of the public. Having released so many different compilations, splits and EPs since their incarnation back in 2008, it may be hard to believe that this is only their second full-length album.
In typical Man Overboard fashion, their sophomore self-titled record stars off in a hectic fashion as the band clatter their way through the upbeat 'Rare', from what as an already anticipated release, the ante is upped from the very moment this bad boy kicks in. On more than one occasion, the speed and intensity of this opening number is matched, songs like the killer 'Something's Weird' and 'Not The First' simply explode from the speakers in a wave of excitable, nervous energy. The punchy 'Night Feelings' is so catchy that you may have to take some form of antibiotics.
As with every Man Overboard record, they possess the quality to effortlessly switch between hard hitting punk anthems to beautifully crafted acoustic or slower numbers as 'Dead End Numbers' and the brilliant 'Atlas' show. It is quality that is simply endearing, and you know that the band are simply not slowing things down to try and charm the pants off of the girls, they are doing it for the love of music. The same applies to the honest lyricism and earnest voices of Nik Bruzzese and Zac Eiesenstein, it's not gimmick that band employs, it's just who they are, and if 'Teleport' doesn't convince you of this then I don't think anything will.
This is the kind of record that despite being so gorgeously catchy, doesn't feel like a guilty pleasure at all because of the true message behind the music, their overwhelming desire to play the music that they grew up listening to, and just making it, well, better. As this is not the first time we have heard from Man Overboard this year, I doubt that it will be the last time we will hear from them in the near future. If they continue to make records as good as this then the future of the pop-punk scene looks bright, very bright indeed.
Written by Oliver Thompson
Founder & Editor for DEAD PRESS! | Atheist and antitheist. | Judge of the quick & the dead since 1989.