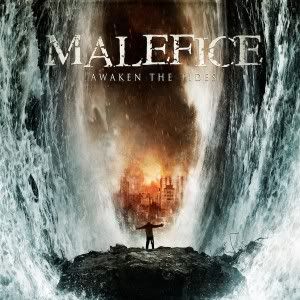 Release Date: August 2nd, 2011
Label: Metal Blade Records
Website: None available
MySpace: www.myspace.com/malefice
Rating:


Fighting to the top of an ever increasing pile of excellent UK bands are Malefice with their fourth album, 'Awaken The Tides'. Now Malefice are a band that are hard to classify; whilst sometimes they play breakdowns and obvious metalcore, they also incorporate thrash and melodic death metal sections. They're not unlike Sylosis and Anterior; indeed, they are touring together soon on a not-to-miss UK trek. They're just as likely to appeal to fans of Slayer as they are of Bullet For My Valentine. Picture a mosh pit with 12-year old angsty teenagers being steamrollered by 30-something half naked bald dudes and that will give you a perfect idea of what to expect here.
2009's 'Dawn Of Reprisal' was an excellent effort, and really pushed the band forward in the right direction despite the not-terrible previous efforts 'Relentless' and 'Entities'. It featured a range of excellent tracks; 'Abandon Hope' and 'Hatred Justified' for the thrashier fans, and the excellent 'Sickened' and 'An Architect Of Your Demise' for the breakdown fans. The new record carries on where this left off, with more of a leaning towards the breakdown side of things, without losing the thrash influence. Whilst it's fairly obvious that Malefice have catered to the current scene with the change in style, they've done it in their own way that sets them apart from the bandwagon types.
There isn't really a track here that's out of place or weak, and they could all hold their own as a lead-off single. With 'Awaken The Tides' and 'Baying For Blood', you've got a couple of older-style Malefice tracks with the thrashy bits and near-death metal riffing that wouldn't be out of place supporting at a Cannibal Corpse concert. 'Minutes' may raise a few eyebrows, with its keyboard intro almost making the listener want to don a curly wig and flares and grab the nearest 50-year old, but after a heartfelt solo comes THE ALMIGHTIEST OF FUCKING BREAKDOWNS out of nowhere. They've pulled the ol' Suicide Silence trick and have been playing down the fretboard all song, so when the beatdown hits, it comes on the open chord and is therefore even heavier than usual.
'The Day The Sky Fell' is the least heavy song on the album, and I say 'least' because it's still heavier than your average metalcore song; the BFMV-esque chorus is still performed well and isn't out of place. The only weak point is final track 'The Haunting' which drags on a little at 10 minutes, with about 5 of them being progressive atmospheric bullshit that isn't really important at the end of the album. It's still not terrible though.
Another thing to mention at this point is vocalist Dale Butler's miraculous change in voice; I don't know if it's just me, but he sounds totally different from all of their previous albums. Maybe I'm just an idiot though. I probably am. Now that Malefice are on a good label, Metal Blade, hopefully they will be able to continue on track to becoming the best new UK metal band this side of the millennium. While they aren't nearly big enough for this point in their career (four albums down and still less than 200,000 plays on last.fm, what the fuck people?), there's still plenty of time for them to get big, and here's hoping they do. With an excellent live show and seemingly constant touring cycle, you'd be a bellhelm to not see them at least once in the next year.
Written by Martin Savage