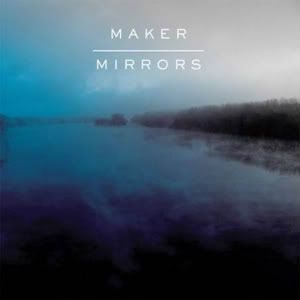 Release Date: January 31st, 2012
Label: 6131 Records/Animal Style Records
Website: www.thisismaker.com
Facebook: www.facebook.com/makerma
Twitter: www.twitter.com/thisismaker
Rating:

Maker are a five piece high energy pop-punk band from Springfield, Massachusetts. Their newest album, 'Mirrors' is a combination of crushing hardcore inspired riffs, blast beat punk drumming and heartfelt lyrics belted forth with desperate force. You can draw some similarities between Maker and some of the other big time pop-punk players like Set Your Goals and Four Year Strong.
The album explodes into angst-fuelled life with the album's title-track, 'Mirrors'. Wrist shattering drum beats crash around scything guitar work, escalating into a grand chorus of "I'm abandoning all hope this time" before closing with a gratuitous solo. 'For Every Mistake I've Made' is another heavily punk inspired track, with even a cheeky bit of screamo creeping in amongst the chaotic instrumentals that give the track an extra level of emotion, albeit a bit cliché.
It's not all furious choruses and heavy American accents though, as 'A Postcard I Never Sent To You' creeps up as a little acoustic treat half way through the album, giving your senses a brief rest bite as the song takes you on a journey of missing your loved ones and longing to be back with them.
As dated as this is about to sound, there's no denying that there's a significant emo sound to 'Mirrors', with track 'Tsunamis' delivering some almost cringe worthy lines such as "I won't be home for Christmas / Because I don't believe in that / And I ain't got no Mrs. or any mistletoe to kiss anyone underneath". Luckily, the hefty guitar work takes the soppy edge off an otherwise lame love song and turns it into a desperate heartfelt plea about needing someone to love and not being afraid to make a noise about it.
'Basement Song' follows suit, but sounds vaguely like the start to an old Blink-182 track, with the band singing about playing in the basement with the window open to attract potential groupies. Let's be fair, the technique definitely works on most ladies.
Overall, Maker have produced a solid punk rock album in the form of 'Mirrors'. Although often cliché in parts, there's no denying that the band know their audience and what works in pop-punk. It may not be genre changing, however, if you're already a fan or you're just curious to see what good and solid pop-punk sounds like, you can do far worse than getting acquainted with Maker.
Written by Steven Potter