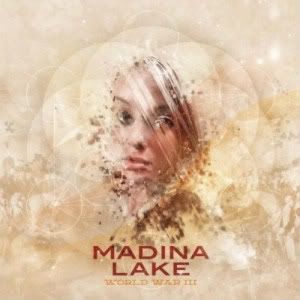 Release Date: September 13th, 2011
Label: Sony/Razor & Tie Records
Website: www.madinalake.com
MySpace: www.myspace.com/madinalake
Rating:


The last 18 months that Madina Lake have had have been well documented, and I'm sure that unless you've been living in a hole or on Mars then you will know what's been happening surrounding bassist Matthew Leone. Given the full recovery that he has made, one of the biggest shames of all is that the band lost all momentum in regards to touring and recording a third full-length. However, as it finally sees the light of the day, the reaction has not been as overwhelming as perhaps the band would have liked and listening to chirpy opener 'Howdy Neighbour!', it's easy to see why.
On their first album, the band's sound veered towards the darker side of pop-punk, whilst its follow-up, 'Attics To Eden', was simply a straight-up, modern rock record. However, 'World War III' is a mix and mash half-hearted effort, whose only purpose seems to be conclude their ridiculous concept trilogy about the missing Adalia (frankly, I haven't followed the story from the start and yet I still have no idea how it finishes). The songs on this album range from the awful ('Take Me Or Leave', which features an odd R&B interlude), the bizarre ('Fireworks', which sounds like a terrible Muse rip off) to the ridiculous 'The Great Divide' which has a period of 5 minutes which builds up to a breakdown that is barely worth mentioning, and is only done so because of the ridiculous build up it is given.
The only throwback to their earlier material is the punchy 'Imagineer', which sadly is also pretty boring. At times on 'WW3', the band sound like they are trying to do their best Lostprophets impression (not good Lostprophets either); songs like 'Across 5 Oceans' and 'What It Is To Wonder' sound horribly familiar, and vocalist Nathan Leone even adopts an Ian Watkins accent when he sings them. No wonder this album fails to impress on many levels.
Personally, I believe that the personal tragedy that the band underwent should have been the breaking point for the band. I mean, fair play to them for carrying on and doing what they love, but from a purely musical perspective, 'World War III' is not a good album, instead it is the sound of a band who are making an album for sake of making an album. Whilst a few songs here have potential, as an overall product, it just doesn't cut it for me.
Written by Oliver Thompson