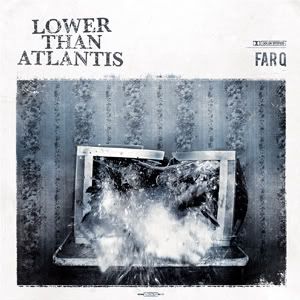 Release Date: March 29th, 2010
Label: A Wolf At Your Door Records
Website: None available
MySpace: www.myspace.com/lowerthanatlantis
Rating:


The UK hardcore punk bands have been the main ones focusing on the country's current problems; economics, politics, etc. Take a look at Gallows (and though they're not hardcore punk) Enter Shikari as the most commonly known examples with both of their 2009 albums. Hertfordshire's Lower Than Atlantis are another British punk band enlisted to transfer messages about the UK's problems in an audio musical format.
'Far Q' covers both major problems such as unemployment and recession in the lengthly and humourously titled 'I'm Not Bulimic (I Just Wanted To See How Far I Could Stick My Fingers Down My Throat)' to illegal downloading of music in 'Taping Songs Off The Radio', offering at least one problem or issue everyone would be interested in. Bringing in products and activities that a large amount of people can actually relate to, stating that "Playstation 3 is owning me / I'm sick of playing Gameboy, Nintendo and Xbox 360", and not to mention the Internet leading nature of 'A/S/L?'. Street violence and bullying is another topic covered by these blokes in 'Face Full Of Scars' with an enclosed spiteful chorus of "So you think you're hard / You think you're clever but you're obviously not", bringing a little more of a harsh nature to the album. Though in terms of hardcore punk 'Far Q' is fairly approachable than most, tracks like 'No Belts' and 'Yo Music Scene, What Happened?' are showcases of their sound pushed to the most extreme on the record, yet 'Mike Deuce's Symphony No.11 In D Minor' pushes it into the complete opposing realm.
It's relevant, it's hard and fast yet approachable, and may well be the sound of an upcoming name to remember in the UK hardcore punk scene. 'Far Q' won't be earning album of the year, but shows a band in the first stages towards great recognition.
Written by Zach Redrup