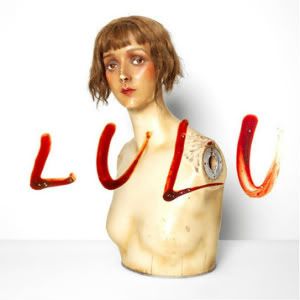 Release Date: October 31st, 2011
Label: Vertigo/Warner Bros. Records
Website: www.loureed.com / www.metallica.com
MySpace: www.myspace.com/loureed / www.myspace.com/metallica
Rating:


Seeing this for the first time, most people would do a double take, not just because of the strange artwork, but also because of the names of the artists: Lou Reed and Metallica. Just imagining the hardcore Metallica fans coming across this with their faces in repulsion/shock/confusion is enough for a neutral to realise that the band has done something here that has seriously harmed their reputation.
Reputation, you say? Yeah, they have still got a reputation, because let's face it, Metallica are one of the most important and influential metal bands around today. Even though many would argue that they've been going downhill for years, the band still has a place in music. This is evident with the amount of bands who cite Metallica as an influence, and if the band were to call it a day there would be more than a fair few bands who would express their sadness. However, that isn't to say that what they've been doing recently will influence a lot of bands. What they did in their earlier days is arguably their most important material, and dare I say it, but it's what their reputation has been riding on for too long. A lot of fans have lost patience but have clung on for the ride in the hope that one day they'll produce something nearly as good as heavyweights such as 'Master Of Puppets' or '…And Justice For All'. They won't be getting that on this album though.
For Lou Reed fans, this may be an album that is recommendable. His lyrics are quite possibly the strongest aspect of this collaboration, and it will be a nice feature amongst all the other Reed memorabilia. "Memorabilia" is used because that's exactly what it is now. It's not for all his fame, he is another artist whose respect is there, but the popularity is not. Even he has said himself that: "I don't have any fans left. After 'Metal Machine Music', they all fled. Who cares? I'm essentially in this for the fun of it". That's quite an admission to make, and one that doesn't bode too well for 'Lulu'.
Well, he may be in it "for the fun of it", but when his lyrics are the strongest part of a poor album (and they're not even that effective), you'd think that he may be having fun, but is he making a joke out of all of us? The price for this CD certainly is a joke: $110 for the Australian super deluxe edition. Just because it has a 2 book set.
It's hard to say anything relatively positive about this album, but the tracks that are redeeming are:
'Mistress Dread', an eerie, almost theatrical opening that is soon eaten away by a thrash-metal influenced guitar and drumming that will appeal to Metallica fans looking for that bit of oomph to the record. Even though Reed's vocals here sound like an old man mumbling away his final days, give it a few more listens and there is a certain feeling of substance to it. However, this might just be me desperately looking for some form of goodness.
'Junior Dad' is nearly 20 minutes long. No, Reed and Metallica haven't ventured into drone/sludge metal here, and it's fair to say it's the strongest track on offer. A pity, seeing as it's the last track. A warm sounding, pared-down guitar and a slower paced drumbeat along with Reed's sparse, inimitable vocal style make for an intriguing listen. The viola is pretty effective too, and it closes out the track in a distant, almost evocative way.
This is an album that is a major disappointment. It will take a long time, if at all, for Metallica fans to forgive them for this. Perhaps they should stop with the grandiose pretentiousness and just go back to what they're good at. At least then they can be taken seriously again.
Written by Rhys Milsom