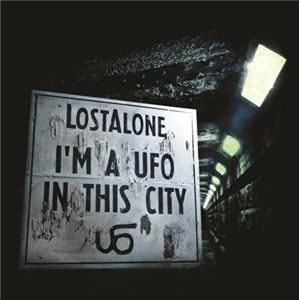 Release Date: March 5th, 2012
Label: Graphite Records
Website: www.lostalone.com
Facebook: www.facebook.com/lostaloneofficial
Twitter: www.twitter.com/lostalone
Rating:


With the summer season fast approaching, we're bringing out all our beach themed albums, but some new additions need to be added, and 'I'm A UFO In This City' by LostAlone is just one of them. After spending five weeks recording in Los Angeles during the summer of 2010 with top end producers Jacknife Lee, Greg Wells and My Chemical Romance's own Gerard Way – who collectively have worked with acts such as Weezer, U2, Katy Perry and Foo Fighters – the end product is one well worth the time and effort poured into it.
'I'm A UFO In This City' consists of eleven hot anthems with powerful choruses and hair pulling riffs. The album's two singles, 'Love Will Eat You Alive' and 'Do You Get What You Pray For?', showcase exactly why this band are picking up some of the hottest tour slots alongside the likes of 30 Seconds To Mars and My Chemical Romance.
With the fast-paced, head bashing drum beats in songs such as 'Creatures' and the ballad-like vocals combined, these energetic yet exuberant songs are just what you need to get your beach party going before easing it down for a bit when the sun starts to set with 'Put Pain To Paper'. You can imagine the scene already.
With tracks like 'Paradox On Earth' and 'The Downside Of Heaven Is The Upside Of Hell' blaring out of your speakers and kicking off a party, it's time to shun your neighbours and fire up the BBQ as these tracks are perfect for that more peaceful evening at home with the friends. With the electrifying solos and the melodic rock rhythm, there's a clear 80s influence here, and vocalist Steven Battelle has a high, harsh voice of a similar sound to Dexter Holland from The Offspring.
This album has everything for your summer CD collection; party tunes and slump-back-and-enjoy type ballads, what more can you ask for? With that in mind, make sure you get down to one of their shows soon. Though great on record, these tracks were just made to be heard live.
Written by Louisa Smith