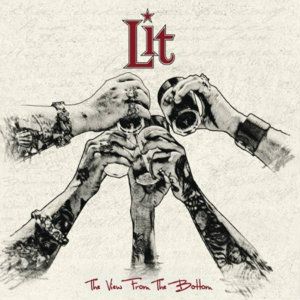 Release Date: June 19th, 2012
Label: Megaforce Records
Website: www.litband.com
Facebook: www.facebook.com/litlounge
Twitter: www.twitter.com/litbandofficial
Rating:

Many bands have ups and downs across their career, but for most of them the downs consist of arguments between members, disputes with record labels and other problems that can steadily be resolved. California rock outfit Lit however weren't so lucky, but have finally returned with their first full-length record since 2004 having sadly lost their drummer Allen Shellenberger to cancer in 2009. Whilst this has obviously had an effect on their music, across the new album they still manage to maintain a catchy rock sound reminiscent of previous big-hitters, such as 'My Own Worst Enemy' that helped them become known.
'The View From The Bottom' kicks off with a host of catchy tracks, such as 'You Tonight' with a sing-along chorus that will no doubt please fans, especially when followed up with 'Same Shit, Different Drink', which sees the band return to their roots with pop-punk sounding hooks to get everyone involved. As this is the first record since the passing of Shellenberger, it's no surprise that this is the focus of some songs. It's an issue that the band deal with and convey perfectly on ballad tracks 'Here's To Us' and 'The Wall', where the picture mentioned in the choruses was revealed to be of the whole band at their last show together.
The unfortunate problem is that whilst there are some standout tracks, such as the darker 'Miss You Gone' or the classic rock sounding 'The Broken' featuring impressive guitar work, some of the album pales into insignificance. The lyrics across 'You Did It' are nothing to write home about and towards the end of the record the faster paced tracks all begin to sound similar to their predecessors. Whilst this isn't terrible, as their sound is enjoyable, it's just a little disappointing.
It's good to see Lit returning to the music scene after such a difficult few years and hopefully this marks the start of a return to their previous success. 'The View From The Bottom' shows a good performance by the band, but needs a few creases ironing out for their next record. Providing a little more variety across tracks would really benefit their sound and a little more sophistication with the lyrics in the chorus rather than repeating the song name would help. That said, as an album following such a long break, it's a rock solid effort.
Written by Jonathon Barlow