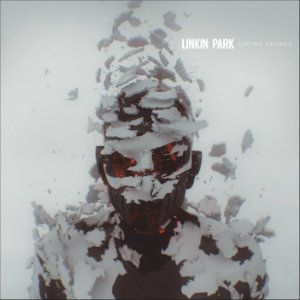 Release Date: June 26th, 2012
Label: Warner Bros. Records
Website: www.linkinpark.com
Facebook: www.facebook.com/linkinpark
Twitter: www.twitter.com/linkinpark
Rating:

'Living Things' is the sixth studio album to come from rock giants Linkin Park, and when talking of the new album to Billboard, Mike Shinoda stated "It was a goal to only use the important sounds. Anything that wasn't playing a role in a song we got rid of" and the band have maybe taken this thought a little too seriously. This album seems more bare-bones than stripped down, the twelve tracks clock in at just over half an hour, with a number of tracks under ninety seconds and nothing even approaching the four minute mark. The clean cut production and great ideas seem overshadowed by a feeling of unfinished work which will leave you craving for more.
Unfortunately for a band like Linkin Park, who have created such fantastic albums such as 'Hybrid Theory' and 'Meteora', which in turn have spawned tracks like 'Numb', 'In The End' and 'Somewhere I Belong', there's little space to move upwards. Now, there's nothing inherently wrong with 'Living Things' except from the unfinished nature of some tracks, but a band such as this will always be compared to their previous work and this album just doesn't live up to the heights previously achieved.
The album does showcase some highlights that are inherently Linkin Park, but they're just slightly fewer and farer between. Opener 'Lost In The Echo' begins with bubbling synthesizers, which quickly morphs into a rap-rock battle between Mike and Chester Bennington. Their vocal partnership is the glue which holds this band together, their voices fit each other so well whilst being on opposite ends of the scale.
Lead single 'Burn It Down', with its inviting synth line and soldiering intensity in Chester's voice is a solid single. Sadly, the same can't be said for next track, 'Lies Greed Misery'. The vocals are lost through screeching programming and wobbly electronics. You could easily be forgiven for thinking this was the latest track from Skrillex.
Lyrically, Linkin Park have forgone the politically charged lyrics in favour for something more personal, closing track 'Powerless' observes "10,000 promises, 10,000 ways to lose / You held it all, but you were careless to let it fall / I was by your side, powerless".
'Living Things' is a total rollercoaster. There are a few obvious low points, a few tracks to be proud of and a whole bunch of questionable beats. With everything in place, Linkin Park will always be a watchable and entertaining entity, overshadowed entirely by the vocal performance. But sadly, 'Living Things' doesn't deliver music as interesting or radical as what has preceded it. This is both a shock and a shame.
Written by Rhian Westbury