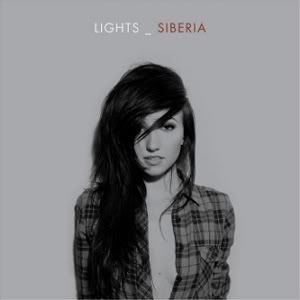 Release Date: October 4th, 2011
Label: Universal Music
Website: www.iamlights.com
MySpace: www.myspace.com/lights
Rating:

With dubstep artists such as Skrillex and deadmau5 selling out world tours, it's no surprise that this is one of the most quickly developing genres at the moment. Internet sensation Lights Poxleitner is pushing the genre to its boundaries with her unique style, and she has already done her own world tour, having lived in Canada, the Caribbean amongst many other places as a youngster, stating that her family would have even "been happy in Siberia", a quote which has been the inspiration for a new, very different offering from the versatile 24-year-old.
Lights appears to be the one man – well, woman – band put into practice. She has everyone wondering what she will do now, after a very neat first offering packed with dubstep, and then a follow-up acoustic EP which almost sounded like a different artist. However, the one constant is Lights' personaltity. Valerie Poxleitner's individuality always blasts out of the speakers with a positive attitude, all packaged up in a very beautiful, radio friendly, melodic voice, and her latest offering, while being the exception to every other rule, does this perfectly.
'Siberia' blasts in with the album title track, which demonstrates just how perfect Lights' vocals are for this genre, and just how different this is to any other "dubstep" on offer right now. It appears to be the lovechild of dubstep and electro-pop; a heavy, bass-line fused with a nonchalantly energetic, and very sweet voice, and it sounds amazing. 'Where The Fence Is Low' is the type of song that one listen and you'll already believe that Lights is destined for great things. This track sounds like a chart topper – tempo changes aplenty, the vocals are edited, but not overly so, just perfectly so to emphasise a particular layer of this beautifully crafted melody.
First single 'Toes' runs very much along the same lines; very chart friendly, but still manages to be unique in its own right. The synthesisers here are again used brilliantly to capture the listener's full attention, and the addictive voice of Lights reels them in. This is an album which you would find extremely difficult to turn off at any point, it captures you and holds you hostage right until the last track. 'Timing Is Everything' may ring a familiar bell with fans of The Cure, however, with the intro quickly disposed of this yet again transforms into catchy, controlled melody, somewhat of a specialism for Lights.
Overall, this is a fourteen track dose of very richly produced, triumphantly crafted electro-pop, with a very heavy dubstep influence. This is a very unconventional album, but Lights is a rather unconventional individual, and her musical talent has been proven time and time again. 'Siberia' perfectly displays her ability to write music which will appease your ears, this album is one which must be listened to, but keep an hour aside when you start, because you might find this impossible to turn off.
Written by Gary Cassidy