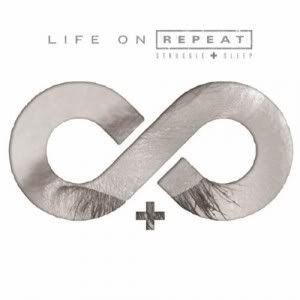 Release Date: June 14th, 2011
Label: Equal Vision Records
Website: www.lifeonrepeat.com
MySpace: www.myspace.com/lifeonrepeat
Rating:


It's only normal that when something relatively new or different turns out to become popular or a success, that many will follow in its footsteps and try to gain some glory from it whilst it's at its peak. The hardcore brush against the pop-punk canvas is something A Day To Remember have honed and perfected, going strength to strength. Newbies Life On Repeat have gone ahead and taken that sound, and put their own impression on it through their debut full-length, 'Struggle + Sleep'.
Though the similarties with ADTR are easy to distinguish, Life On Repeat deliver the package in a far more complex style, but also with much far less agression, most notably in the vocals. With barely a scream in earshot throughout the entirety of the album, 'Struggle + Sleep' relies on other properties to bring that crushing factor. Dropping you right into the thick of things from the off, the album's title-track opener envokes everything found in the scope of the album's 11 tracks in one just under 4-minute long package; a unconventional breakdown, pounding drums, insatiable vocals and a chorus hook you'll have in loop for hours to follow "Tonight we're wasted on nothing, driving with the top back / I'm only chasing this feeling, to get back what my heart lacks".
The catch-factor continues on with following track 'The Waiting Game', being possibly on the strongest single material offerings the album has on offer, tackling that all too familiar topic of love and relationships turned sour, something the band meet again on a few more occassions like 'Rock The Boat'. It's these more pop-punk orientated tracks that display Life On Repeat at their strongest, even if it's not the most original material available out there today.
What helps bring a sense of refreshment is the complexity of the instrumentation in the backdrop, which if you listen out for twofolds the deliverence behind these songs. Though on first impression vocalist Patrick Purves may be the shining member of the band, with his melodic and inviting voice, its the work of his co-members, most notably drummer David Walker who are due just as much credit.
Admittedly, Life On Repeat are a band who are branding a whole new sound you've never heard before, and to an extent could be considered a band who are following too close in A Day To Remember's footsteps, but when attention is paid there's so much more to the Maryland quintet are much more. 'Struggle + Sleep' is a great addition to any Summer soundtrack, and could be stuck in your playlist for months to come.
Written by Zach Redrup