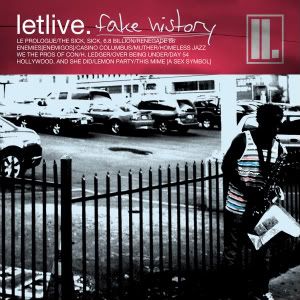 Release Date: April 12th, 2011
Label: Epitaph
Website: None available
MySpace: www.myspace.com/letlive
Rating:

Bursting straight out of LA, progressive hardcore mob Letlive. have proven they are a force to be reckoned with after the release of third studio album, 'Fake History'. Known for their blistering live set, the five-piece have captured all the passion and intensity of a show and condensed it into 56 and half minutes of compact madness.
Beginning with a dose of mayhem, 'Fake History' blends intro track 'Le Prologue' with leading single 'The Sick, Sick, 6.8 Billion', setting an instant live vibe. Not only, this but they create a thrilling presence, grabbing your attention with every word Jason Aalon Butler spits out, it's apparent they have raised their game. Each element seems to fit perfectly, the high pitched screams blend with the melodic components of the guitars, while Butler's soulful clean vocals add a hook and something quite refreshing. Each instrument adds its own personality without being too over the top.
As it continues, soaring through track after track, illuminating personal issues and traveling through an emotional rollercoaster, Letlive. conjure up a ruckus. Drawing comparisons to the likes of GlassJaw and Thrice, they have resurrected the post-hardcore of the past, and dismissing the poppycock of today. No generic breakdowns or whiney voices, just an overwhelming amount of power, the way post-hardcore should have stayed.
As I sit here reviewing this record, trying to be as analytical as possible, there is only one thing that keeps circling through my head. How bloody good these vocals are. 'We, The Pros Of Con' sums this up without a word having to be spoken. I know I've already mentioned GlassJaw, but Daryl Palumbo is probably the only other vocalist that can create such a magnificently obscure tone in his voice. As well as this, Butler has an aggression in his voice like no other.
Letlive. could possibly be the most underrated band in the world at the moment. A third album is often the one which defines a band's career. If this is the case for Letlive., then they can only expect huge things to start happening for them, and no band deserves it more. Good effort Letlive., apparently there is hope for post-hardcore after all.
Written by Chris Loomes