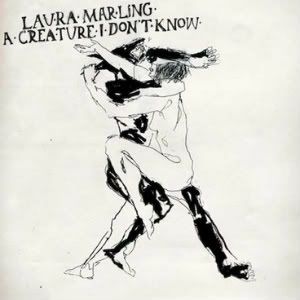 Release Date: September 12th, 2011
Label: Virgin Records
Website: www.lauramarling.com
MySpace: www.myspace.com/lauramarling
Rating:


2011 has been a great year for Laura Marling. At just 21-years-old, the young folk musician has already released three albums, won two BRIT awards for Best British Female and Best Solo Artist earlier this year and has in the past collaborated with Mystery Jets and indie folk band, Noah And The Whale. Her latest release, 'A Creature I Don't Know', has further cemented her reputation as one of modern indie's royalty, and what a great album it is.
Laura is certainly a master of her craft. Picking up where 2010's 'I Speak Because I Can' left off, the album opens with 'The Muse', an example of her signature folk twang we all know and love with a slightly more country and western vibe about it. She delivers her lyrics, such as "Don't you be scared of me / I'm nothing but the beast", with such confidence that it's easy to forget that she's just 21.
What sets her apart from many solo artists are the many songs on 'A Creature I Don't Know' that are just simply Laura herself, with no bells and whistles. With just Laura and her guitar, many of the songs; 'Night After Night', 'My Friends' and 'Rest In The Bed' are quiet, chilled out and almost peaceful. This combination of just simple vocals and a guitar is what makes Laura Marling a great artist – she can still deliver great music without any additional effects or tricks.
Penultimate offering 'Sophia' is definitely one of the album's stand out moments. Leading in with slow and sultry acoustic guitar, 'Sophia' is almost like a lullaby, before breaking into its lively chorus. Marling's great vocal range is also best exemplified on this track, and it's these powerful vocals that are one of the album's high points. She has a flawless voice that would be envied by any vocalist, and is certainly impressive for such a young artist, especially as she has such an authentic folk voice that would make you assume she was from the southern states of the US as opposed to Hampshire.
'A Creature I Don't Know' is certainly Marling's most musically and lyrically ambitious albums yet. Her ability to switch a song from a delicate pluck of the strings to a fiery, down-and-dirty folk-rock number is unquestionably impressive. It takes a great artist to keep up an authentic folk sound as well as add something new and modern to it, and it's one of the things that makes Laura Marling stand out among the British female solo artists of today. She's no doubt a talented musician, and definitely one who will have a great future ahead of her.
Written by Ashleigh Wight