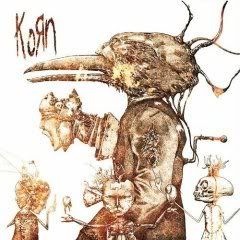 Release Date: July 30th, 2007
Label: EMI
Website: www.korn.com
MySpace: www.myspace.com/korn
Rating:

The past few years haven't been the best for KoRn. Co-founding guitarist Brian 'Head' Welch left the band for God and christianity, and drummer David Silveria left on temporary hiatus just before the recording of this album. But still, remaining members Jonathan Davis, James 'Munky' Shaffer, and Reginald 'Fieldy' Arvizu kept fighting strong, and have now released their most experimental compilation of songs to date. Now a three-piece band, KoRn release their eighth full-length studio album, 'Untitled'.
Opening instrumental track, 'Intro', reveals a little taste of what's to come during the next 45 minutes of this band's latest work. The band throw away their common use of chugging guitar and bass riffs soaked with distortion, replacing them with something that fans wouldn't expect to hear from them 10 years ago.
Recent single release 'Evolution' is another sample of KoRn's new experimental approach to songwriting. With some vocals providing rather haunting effects, this is one of the more catchy songs you're going to find on 'Untitled'. However, with that in mind, it's also not the most powerful chorus KoRn have done to date by any means. Take a look back at previous offerings like 'Blind' or 'Here To Stay' and you'll notice that an element of intensity is missing.
Infact, KoRn haven't quite brought back the same level of fire and angst that existed in their earlier achievements, though they have still managed to keep their anger, low-mood lyrics and song messages in place throughout the record. 'Kiss' is one of the lower, more haunting, and in places more progressive offerings the band has this time around. With lyrics such as "Why can't this hurt be through? / I'm going head on to something I know I will fail" you can stay assured that Davis still has something to moan, scream, shout, and be pissed off about.
Though KoRn don't have that 'smack in your face' attitude and power in their music that they once had, the band can still plough on with their eighth offering strong and proud, which not many bands can achieve in their career. Whilst they don't quite hit the brutal barrage of 'Blind', and they don't quite achieve the work of 'Freak On A Leash', most KoRn fans can sleep happy with what is held in 'Untitled'.
Written by Zach Redrup
Founder & Editor for DEAD PRESS! | Atheist and antitheist. | Judge of the quick & the dead since 1989.