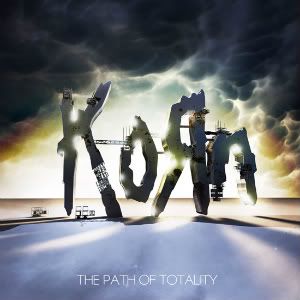 Release Date: December 5th, 2011
Label: Roadrunner Records
Website: www.korn.com
Facebook: www.facebook.com/korn
Twitter: www.twitter.com/korn
Rating:

Last year, when KoRn collaborated with Skrillex on the single 'Get Up', combining their metal style with the ever-growing flavour of the week genre, dubstep. This rallied two opposing outlooks, people either loved the hybrid of the two sounds, and the others detested what they saw was a soiling of the classic sound of the band. However, they rested in comfort knowing it was just one single, that was until 'The Path Of Totality' was announced, an album full of dub meets KoRn.
Even before the album's release, KoRn elitists are spitting in disgust at the prospect that their Californian nu-metal forerunners are even considering combining their sound with anything as mainstream as a subgenre of dance. A recent interview where frontman Jonathan Davis said, and quote, "We were dubstep before there was dubstep" also sparked much controversy across the board, with a lot of people taking the statment far too literally. Still, any press is good press, right?
What KoRn have managed to develop here though is an album which displays the compatability of the genres metal and dubstep, and why dubstep has become so accepted in the alternative music scene as well as in the dance and mainstream scene. Single 'Narcissitic Cannibal' is the track that balances the two genres in one track in perfect harmony, and can definitely attract both KoRn and Skrillex fans in unison.
'Way Too Far' is another highlight of the album, delivering one of the softer and more accessible tracks of the record that holds a chorus that's subtly as catchy as anything else you'll find on here. 'My Wall' and 'Illuminati' deserve a respectable mention too, the former bringing both the heavier bass-ness of the dubstep regions which marry with the equally heavier aspects of the band's metal origins.
It was inevitable from the moment the band dropped any mention of this release that there'd be an uproar from some of their old school fans. However, with their last release, 'KoRn III: Remember Who You Are', the band returned to original producer Ross Robinson and created an album that revisited their roots, and they were still unhappy. The fact is, with 'The Path Of Totality', KoRn are proving that they're able to shake things up a bit and still sound fresh. Though moments may sound a little one-dimensional on a prolonged listen they've definitely reaped the rewards from what could've been a highly risky move with dire results.
Written by Zach Redrup