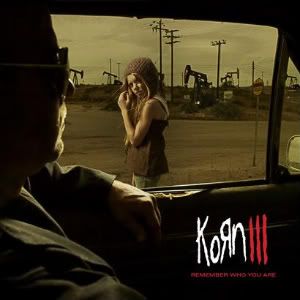 Release Date: July 12th, 2010
Label: Roadrunner Records
Website: www.korn.com
MySpace: www.myspace.com/korn
Rating:


Grandfathers and one of the very few survivors of the once thriving nu-metal scene breakout a few years ago, KoRn were slowly being lost in the ever expanding world of mainstream metal that they helped to fortify. With their past few records being quite a distance from their ruthless potential, KoRn have decided to take a few steps towards their roots and originating sound they fit oh so much better than their more experimental efforts as of late. 'KoRn III: Remember Who You Are' may be one of the most fitting album titles we see in 2010.
The teen angst driven lyrics are still a very important cog in the KoRn machine. Excerpts like "Why don't you just leave me alone?", "I'm such a stupid fuck, listening to my head and not my gut" and "All I do is give, am I wasting my time?" make it very clear that vocalist Jonathan Davis is far from low on demons to conquer. It's what's helped define his style as a lyricist, and in some ways stand the test of time that's laid more than enough blows on the group. Angry music is what they're good at.
Though they're moving back to what exactly made them breakthrough and become popular from the beginning, they haven't imitated any of their older albums to the point where it's bland and dull. It's by no means the greatest thing that KoRn have in their catalogue, but is definitely a step up from some of their more recent material. This was tried a little too hard with 2003's 'Take A Look In The Mirror', and albums inbetween 'See You On The Other Side' and 'Untitled' (or named 'KoRn II' instead) were different and just a bit crap in that respective order. With 'KoRn III' the group have got it down right, and are once again free of the weight on their shoulders of being respective originators once more.
It's a step in the right direction, showing KoRn have plenty of fight left in them still. Their middle-age hump may be out of the way for good, with tracks like 'Never Around' showing they're as pissed off as they were from day one, and 'Are You Ready To Live?' diving into some of their darkest regions. Ladies and gentlemen, let us reintroduce KoRn.
Written by Zach Redrup