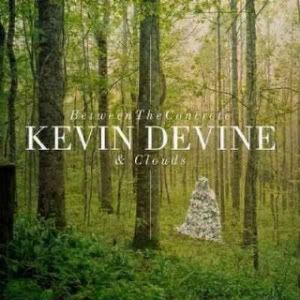 Release Date: September 13th, 2011
Label: Razor & Tie
Website: www.kevindevine.net
MySpace: www.myspace.com/kevindevine
Rating:

Kevin Devine has steadily been making a name for himself over the past few years, releasing five full-length albums alongside a lengthy list of EPs as well as notching up countless tours under his belt. He's become the latest US indie darling to set the blogisphere alight and has developed quite the cult following thus far.
The most notable difference between 'Between The Concrete & Clouds' and Devine's previous material is that this is his first album where he has chosen to record alongside a full band rather than his usual acoustic approach. Although admittedly a bold move, it is one that pays off massively. The band bring a whole new dimension to Kevin Devine's sound and at times the songs on this album swell to the point where they sound nothing short of colossal, most notably on closer 'I Used To Be Someone'. The band are even accompanied by a string section and the odd flourishes of electro that build and build into something that is truly special.
Those worried that everything that made the previous material so special may be lost in this new direction fear not, Devine's voice still shines through and leaves a lasting impression. The raw emotion in his voice and that fragile sense of vulnerability is breathtaking, creating many goosebump moments through the course of the album. Be it the heart wrenching nature of 'The City Has Left You' or the life-affirming 'Wait Out The Wreck', Devine has the ability to connect with the listener that many can only dream of.
Kevin Devine's lyrics have also been an integral part in his music, and things are no different on his latest. His poetic lyrics still touch on the political such as on 'Awake In The Dirt' as well as more personal matters such as '11-17′. However, the title track's lyrical content is one of the greatest moments on the record. The song that deals with the topic of religion and Devine questioning his own faith as he sings "And every single time that you opened your mouth, someone else's lies came tumbling out" and "So what if the end just ends? It's worthless to worry, then to wrestle yourself to death again and again". Despite tackling such a huge topic, he does so brilliantly and addresses issues that have crossed many minds at one time or another.
Kevin Devine has delivered another fantastic album, and by incorporating the band into his music there has been a sense of something new injected into yet everything that made him so popular is ever present, as he remains a hugely talented individual whose popularity is only going to grow and grow.
Written by Gavin Lloyd