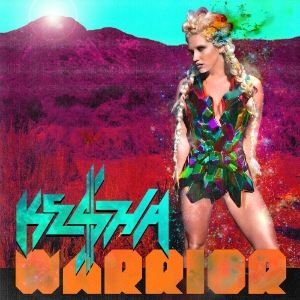 Release Date: December 3rd, 2012
Label: Columbia
Website: www.keshaparty.com
Facebook: www.facebook.com/kesha
Twitter: www.twitter.com/keshasuxx
Rating:

What's most surprising about Ke$ha's sophomore album, 'Warrior', is that it's not exactly what the listener expects from the party addicted pop star. Although the whole of it is indeed in true Ke$ha style, with songs about living in the moment and having a good time, her vocals are a lot more raw than they have been previously, which promises a great success for the album.
'Die Young' is probably the song that stands out most on the album, and probably why it was opted for the record's lead single. It's a song perfect for the upcoming Summer and the long nights beginning to stretch out. Despite the generic and predictable song title tagged to 'Thinking Of You', Ke$ha doesn't fail to surprise her audience with a song about throwing a middle finger up to an ex and relishing in her success. It's a really quirky and honest song, which is definitely a highlight of the album.
Another catchy song is 'Only Wanna Dance With You'. It's a real turn around from her seemingly reckless first album, but it's 'Wonderland' which is the real winner here. This song shows that Ke$ha is definitely not a one trick pony, although her famous auto-tune is weaved throughout the song slightly, it's a much slower number where the Nashville star gets to really show off her true talent. Hiding beneath the auto-tune is a fantastic voice, which Ke$ha has previously shied away from and evidently should showcase more often.
'Warrior' is an album that everyone should give a listen to. It's unpredictable and a lot more grown up than her previous work. A lot of listeners will find themselves surprised, and surely Ke$ha has a lot more in store for us yet.
Written by Caitlyn Dewar