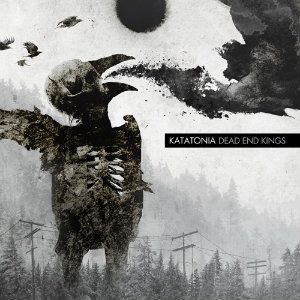 Release Date: August 27th, 2012
Label: Peaceville Records
Website: www.deadendkings.com
Facebook: www.facebook.com/katatonia
Twitter: www.twitter.com/katatoniaband
Rating:


Shifting from their death/doom roots into decidedly more progressive territories seemingly could not have come easier for Swedish qunitet Katatonia. With widespread critical acclaim greeting their more involved, meandering output, the band's steady aplomb peaked with the release of 2009's 'Night Is The New Day', and the almost universal agreement that the album marked the band's finest work yet. So, it should come as little surprise to anyone that they have managed to scale new heights once again with the stunning 'Dead End Kings'.
What sets Katatonia, and indeed 'Dead End Kings' in particular, apart is the somwhat baffling ability to remain wholly understated and atmospherically bleak, yet constantly retains a sense of infectious majesty which belies the often sparse nature of the songs. 'Leathen', for example, glides effortlessly on a bed of subtle keys and shimmering chord progressions, yet somehow the marriage of low key vocal melodies and haunting atmospherics keeps the songs utterly engaging.
Indeed, the fact that the pace of the album rarely gets out of first gear tells us much of the band's sublime songwriting aptitude. The little touches of brilliance, such as the beautiful climax of 'The Racing Heart' as the song begins to gently fold in on itself, or the orchestral swells and bluesy lead flashes in 'Leeche', reveal that at the heart 'Dead End Kings' is a sheer melting pot of ideas and know how of when and where to execute this well of invention.
This being said, the band's metallic bedrock still comes to the fore on occasion, the economic glimpses of heaviness making them all the more effectual for their brevity. A dramtic 'The Parting' employs the use of some hard hittings grooves, whilst the title-track sees some rambling riff work and syncopated rhythmatic hulking amid the cleanly picked haze, hitting hard and coming as a welcome change of pace amoungst the delicate fare.
'Dead End Kings' certainly requires a certain amount of time to digest, but the rewards are soon blindingly obvious as the abundance of hooks and instrumental absorption begins to unfold. It is difficult to see how Katatonia can continue to maintain their string of stellar releases, but until the next one, we undeniably have enough to sink our teeth into here. 'Dead End Kings' is a simply gorgeous record.
Written by Tony Bliss