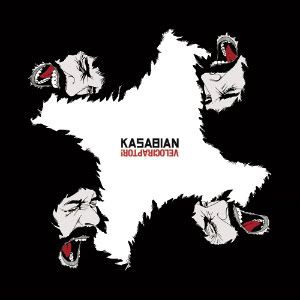 Release Date: September 16th, 2011
Label: Columbia
Website: www.kasabian.co.uk
MySpace: www.myspace.com/kasabian
Rating:

Kasabian, those stalwarts of British alt-rock, are back again with another batch of quirky, Oasis-tinged tunes. With a string of consistently good albums behind them, most of their fans will pick up 'Velociraptor!' with little hesitation, regardless of reviews like this or based on the quality of released singles. Some may be surprised then, that this latest effort is most definitely a mixed bag.
Things start strongly with openers 'Let's Roll Just Like We Used To' and 'Days Are Forgotten'. It's safe, typical Kasabian fare, reminiscent of their last album, 'West Ryder Pauper Lunatic Asylum'. Tom Meighan's vocal style possesses that Liam Gallagher Marmite-effect: either you love the lilting tones or hate the monotonous drone of it, but he is at least competent if not outstanding. 'La Fee Verte' provides a welcome change as guitarist Sergio Pezzorno takes on vocal duties, giving the track a greater sense of place and personality with his swooning drawl. The sparse mix feels decidedly old school and the simple melodies are catchy.
Kasabian clearly aren't afraid of experimenting with unusual arrangements, taking cues from all kinds of genres, including film soundtrack on songs like 'Days Are Forgotten', which could easily serve as a Morricone-esque tune for a modern day Spaghetti Western. However, the best results are achieved when the group keep it simple. 'Re-Wired' is a stomping anthem in the same vein as classic 'Club Foot' from their debut, with a chunky mix and infectious chorus. 'Man Of Simple Pleasures' works in an equally satisfying way, with catchy lyrics and a driving groove that makes it one of the highlights of the album. It's all reminiscent of the laid back vibe of The Xx, and it's unfortunate that the band are unable to replicate this type of sound more frequently on 'Velociraptor!'.
'Switchblade Smiles' and 'Acid Turkish Bath' are the polar opposite of these competent, unassuming tunes. Whether you find these tracks intriguing, weird, frustrating or annoying is entirely down to your tolerance for the strange samples and wails that adorn them, but at the very least, they demand the listener's attention. And you should try and make the most of this weirdness, because 'Velociraptor!' loses much of its peculiar tone on the remaining tracks. 'I Hear Voices' is thin and gutless, failing to deliver any thrills and 'Goodbye Kiss' is devoid of charm, while 'Neon Noon' is a bland, forgettable drone of a closer, lacking any teeth or personality. It's a disappointing end to an album that for the most part showed promise.
Whether they're playing it safe or going too far left-field with experimental noise, Kasabian haven't quite hit the mark with 'Velociraptor!'. While fans will find something to like here, the album doesn't possess the staying power and the quality that made their previous releases so successful.
Written by Grant Bailey
Founder & Editor for DEAD PRESS!