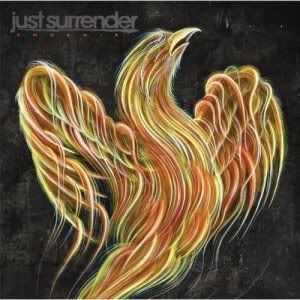 Release Date: August 2nd, 2010
Label: LAB Records
Website: www.justsurrender.net
MySpace: www.myspace.com/justsurrenderrock
Rating:

The ethic of "if it ain't broke then don't fix it" comes to mind when listening to Just Surrender's latest full-length effort, 'Phoenix'. The punk rock 5-piece are following a forumla they're comfortable with, to avoid disappointment and polarisation of their current fanbase.
Understandable of course, no band wants a backlash and they could well just be doing what they enjoy and not be interested in experimentation. But without a little bit of shaking things up, how will you know what you're capable of and how will you possibly make a sound you find more suited to yourself? This isn't to say progress hasn't been made, it's just very minimal. It's just a good thing that Just Surrender are more than capable of writing songs to make up for it.
'Through The Night' and 'Crazy' show the band's upbeat and high tempo side, keeping things pretty quick with strong and catchy choruses to help burn it into your brain long after the songs are over. 'Jukebox Memoirs' and 'Lose Control' follow in a similar fashion, making great use of their dual-vocal option open to them which helps to keep the hooks and melodies coming over and over again.
The thing is that things are played just a little too safe, and some songs just bleed into one another a little too well. 'Phoenix' is far from a failure, and has a moment of catchiness and powers to seduce you into dance and/or sing-a-long around every corner. Current fans are definitely safe from disappointment.
It's just with every record a band should at least try to make a concious effort of growing and trying one or two new things, but Just Surrender have kept this fairly minimal.
Written by Zach Redrup