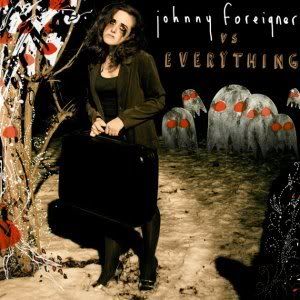 Release Date: November 7th, 2011
Label: Alcopop! Records
Website: www.johnnyforeignertheband.com
Facebook: www.facebook.com/johnnyforeigner
Twitter: www.twitter.com/lexkelandjun
Rating:

Johnny Foreigner return with this album, angstily named, 'Johnny Foreigner Vs. Everything'. It's a vast 17 tracks, which is a lot to get through if you don't like the band, but then again, if you don't like them then you wouldn't listen to this album in the first place. And, more than likely wouldn't be reading this review, either. But I digress; let's get back to the point.
Even though the listing of 17 tracks may put the listener off before they even start playing it, once the first track starts you'll realise that it's not going to be a meandering listen at all. If anything, it's going to be a white-water rapid of a listen. Or you hope, anyway. And the rest of the tracks don't put your hopes to bed – this is an album of diverse, fast-paced, intuitive indie that proves, once again, that Johnny Foreigner are a band who, while still relatively under the radar, are a band of ceaseless potential. And a band, who, due to their sheer creativity and hard-work, deserve to be much bigger than what they are.
The first track, humorously named 'If I'm The Most Famous Boy You've Fucked Then Honey Yr In Trouble', brings Alexei Berrow's vocals to the fore immediately, along with the harmonising of bassist Kelly Southern. A rolling drumbeat, stop-start guitar and bouncy bass form a fuzzy wall of noise which allows Berrow's vocals to truly make an impression.
'What Drummers Get' uses Berrow's and Southern's vocals to their full potential, as they're used together and it makes for a track that's not only one that's easy to sing along to, but also one that shows not every track on the album is fast-paced. It starts with a small excerpt of dubstep, but then Berrow's vocals burst in and this allows the rest of the band to move in seamlessly.
'(Don't) Show Us Your Fangs' starts with what can only be described as what sounds like the music from a SNES game, but that soon pares away. What remains is a slower-paced, almost delicate track that stands out, not only because of its different direction, but also because of how truly diverse it is to any other track on the album.
The final track, 'Alternate Times Piling Up', has a gentle guitar line, simplistic yet catchy drums and Berrow's vocals, which take centre stage, are the most accessible on the album. It's almost like an acoustic session and is a track that would do very well in that sort of environment. It's a solid end to an album that changes its colours all the way through.
Johnny Foreigner keep releasing material after material, and it's puzzling how they're still festering away in the underground when every release has been pretty strong. Hopefully they won't be in the underground for much longer after this.
Written by Rhys Milsom