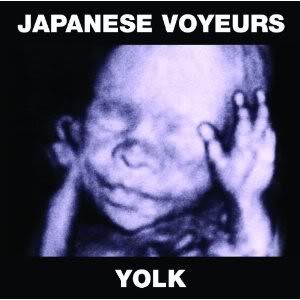 Release Date: July 11th, 2011
Label: Fiction Records
Website: www.japanesevoyeurs.com
MySpace: www.myspace.com/japanesevoyeurs
Rating:

Revivals aren't always the best of ideas, and some things in life should be left dead. A few examples of which would include the all-over denim look, Voldemort, the Gladiator TV series and ankle warmers. One recent push for revival in the rock scene lately is that of grunge, one attempt of revival that is welcomed, and Japanese Voyeurs are maintaining a great name in the genre with their debut 'Yolk' that was left behind by its originators back in the 90s.
Their influences in the genre are made very clear throughout this record, with Nirvana distinctly being a notable source of inspiration in many aspects of this album. Take a look at the baby themed album cover, just like Nirvana did with 'Nevermind', many lyrics relating to infancy and children, and even a track named 'Dumb', much like the Seattle icons had on their final album 'In Utero'. That's just a few similarities, and the music itself hasn't even been mentioned yet, like the opening chords of 'Dumb' sounding very similar to the opening chords of Nirvana's track 'Aneuyrsm'. It's hard to say that these guys aren't avid fans.
Now, despite all this, it must be duly noted that Japanese Voyeurs are far from a bunch of copycats. No, far from it. The British quintet are very much their own entity, respectfully and successfully taking the grunge mold and making it their own and making it relevant to the music scene as it is today. 'You're So Cool' bursts the album into life with passionate angst, and tracks like 'X-Ray Ted' and 'Double Cheese' are accompanied with gritty riffs sounding like the band are grinding their guitars against brick walls, cranking their distortion to 11. 'Smother Me' brings a very haunting feel to the JV sound, and adds more dimensions to their already rather impressive repetoire.
Like most albums though, 'Yolk' has one downfall of a track, and that is 'Heart Is A Fist'. Despite delivering a more solemn package than most of the album, it just sounds a bit more of a filler and doesn't contest too well against their other material. However, album strong points like 'Dumb' and the following 'Cry Baby' more than make up for this minor crutch.
'Yolk' may be far from being this century's 'Nevermind', but here Japanese Voyeurs have made an impressive debut that stands head and shoulders over many of this year's releases to date. If nothing else, it also stands as evidence that grunge is far from dead.
Written by Zach Redrup