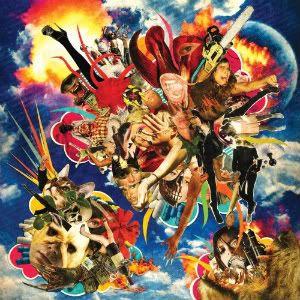 Release Date: August 31st, 2009
Label: Century Media
Rating: 6/10
Website: www.iwrestledabearonce.com
MySpace: www.myspace.com/iwrestledabearonce
First things first, apart from the seeming fear of spacing in the name, what do you class them as? iTunes seems to suggest 'deathcore', whereas Wikipedia has them down as 'avant-garde metal'. Perhaps it is best to listen to the album yourself to try and decipher the genre in your own time, otherwise we could be here forever. Let's just say there are elements of jazz, grindcore, disco, metalcore, swing, electronica and death metal throughout the half hour album… fancy making an acronym to describe all of them in one?
So who are they, where are they from, and is their debut album worth your purchase? The third will be answered in due course but the first couple can be crossed off now. In short they are a five-piece band from Louisiana and are fronted by a woman by the name of Krysta Cameron, a fact which adds to this band's mystique. Opening track 'You Ain't No Family' features said vocalist singing sections and then launching into screeching and screaming the next, whilst the band around her skip from one tune to another, even throwing in what sounds an almost-banjo-like breakdown and oddly enough, a neighing horse?
'Danger In The Manger' is not a bad song at all, mixing melodic vocals with Cameron's ability to scream, and cutting out all the knob-twiddling sound effects as well, it sounds a lot better put together than the previous songs and not as mish-mash. The same can be said for 'I Am Cold And There Are Wolves After Me'. 'Tastes Like Kevin Bacon' was one song which they released earlier on as a demo with an accompanying music video, and it all goes well until the 2:25 mark. From there sound effects are just thrown in, and kind of makes you wonder why they bothered. It does nothing for them or the song.
'Pazuzu For The Win' could be the best song on the album, or it would be if it wasn't 4 minutes long. For the most part it is great, but the latter part of the song just seems pointless and repetitive. Were it ended at the 3 minute mark then it would be the best on the album. The final two songs have their moments of goodness but they are plagued by unnecessary breakdowns and sound effects. Much like the formula for the entirety of the record, and sadly results as a frustrating end to a frustrating album.
You want to like this album as it is different to most you will listen to but it seems wrong to do so, especially with the randomly added effects. The songs that stand out are the ones that are without such unnecessary additions when they keep to the melodic vocals/screaming and pure instrument sounds then it would possibly be a better listen.
It is not a bad album all things considered but if they stuck to what they do best then it would definitely be a lot better to listen to. And still I am no closer to deciding what I classify them as… but I will go with my favourite description. That is a "spastic blending of genres".
Written by Tom Donlan