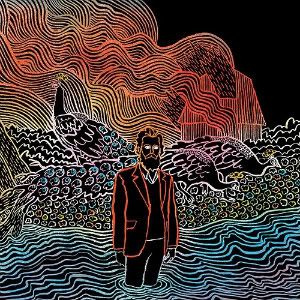 Release Date: January 25th, 2011
Label: Warner Bros. Records/4AD
Website: www.ironandwine.com
MySpace: www.myspace.com/ironandwine
Rating:


Iron & Wine (aka Sam Beam) has come an awful long away since his folky beginnings. We are now greeted by the bearded wiseman with a funky future. 'Kiss Each Other Clean' is the fourth studio album from the American, and though lyrically it's very familiar to Iron & Wine, musically something else is cooking in the kitchen, and in the end result it seems that the chef Sam is brewing up some funk to go with his Iron & Wine.
'Big Burned Hand' is definitely one of album's greatest highlights, with the sounds of a late night/early morning jam complete with saxophone. 'Your Fake Name Is Good Enough For Me' also stands out to me, with its eccentric soul bursting out of the album and into the ears at a great and impressive impact. 'Godless Brother In Love' however echoes through Iron & Wire's past, and serves as a nostaglic moment on a album filled with new and exciting sounds, that will no doubt be enjoyed by fans both new and old.
The album overall is brilliant stands as probably Iron & Wine' best work to date; 'Kiss Each Other Clean' is the sound of when Bob Dylan went electric. Sam Beam is taking his music to some new and exciting places, and with what's on this album it definitely sits comfortable in these new territories. A pleasantly suprising album indeed.
Written by Ali Pritchard
Founder & Editor for DEAD PRESS! | Atheist and antitheist. | Judge of the quick & the dead since 1989.