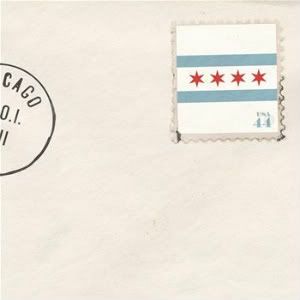 Release Date: September 12th, 2011
Label: Topshelf Records
Website: www.intoitoverit.com
MySpace: www.myspace.com/intoitoverit
Rating:


Being a successful one-man project isn't the easiest thing to achieve. When the ideas and creativity start to dry up, you can't rely on anyone else as back-up, and you haven't got anyone else to tell you that something isn't working and to go back to the drawing board. Unless, of course, you have really good friends or a producer who actually knows what they're talking about. Or, even, if you are one of the few of us out there who enjoys critiquing yourself, then you have a good chance of knowing what works and what doesn't.
Into It. Over It., or Evan Thomas Weiss, is one of these one-man projects that know what they're doing. He's been quietly making a name for himself with his blend of indie/emo that seems heavily influenced by Brand New, and has intelligent lyrics and beautiful assembled music that appeals to people of all ages and backgrounds. What's more interesting though is that he chooses to write songs about different places. Take, for example, this release, called 'Twelve Towns' – every song is about a different town and are titled as such. It's an intriguing thing to do, as it adds a sense of closeness to each track, as if he's been there and wrote the lyrics while in the town. It also adds appeal to the listener, because if they're from the place he's singing about, they'll feel obliged to listen to it, and if they like it, then Weiss has done his job well.
Stand-out tracks are 'Brenham, TX', which keeps you listening intently all the way through with its happy, melodic sound which Weiss' voice works effortlessly well alongside. The beat is one that gets your foot tapping and head nodding, and when you listen to the acoustic version of it (which is near the end of the album), it shows Weiss' songwriting foundation at its barest. But, it still works well, and if anything, adds a more intimate feel.
'Portland, OR' has possibly the most intimate and well-written lyrics on the album, "At first / I thought a girl like you / shouldn't be seen / with a miserable man like me / but it seems like once you open your mouth / horrible things fall out / I guess I'd spoken too soon". The whole feel of the track is quite sombre, but the plucky guitar adds an element of retrospect, along with Weiss' slow, drawn-out vocals.
'Washington, DC' is a track that will appeal to fans of the louder side to Into It. Over It.. Weiss doesn't use the soothing aspect to his voice here, he just seems to go all out and it adds a sort of punk/emo side to the album. He shows here 'e's not just about making heartfelt, gentle music.
This is an album that will appeal to fans of Death Cab For Cutie, Brand New and of passionately made music that you can just sit back and chill out to. This is music that makes you feel better when you need it.
Written by Rhys Milsom