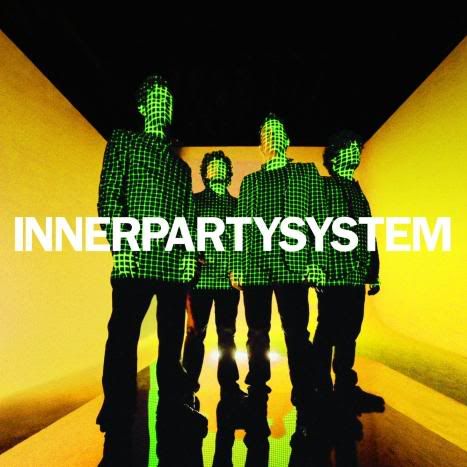 Release Date: September 29th, 2008
Label: Stolen Transmission
Rating: 7/10
Website: www.innerpartysystem.com
MySpace: www.myspace.com/innerpartysystem
Admittedly upcoming US rockers InnerPartySystem aren't creating an incredibly fresh and original sound. Infact, it's becoming increasingly difficult to create a completely new sound nowadays with the use of Internet giving us better exposure to less commercially accessible bands. But, aslong as the band does what they do well then there's no issue, and that's exactly what InnerPartySystem manage to achieve with their self-titled debut effort.
It's songs like 'Die Tonight, Live Forever', 'Heart Of Fire' and 'Last Night In Brooklyn' that gets your blood pumped and your muscles moving to the beat and rhythms, fueled by the bands energetic industrial electronic tinge upon alternative rock. No doubt there'll be a few moments that get looped and caught in your head too, creating hooks that bands like Nirvana once achieved back in their day, proving they have the effort to draw the audience in. Then there's 'This Town Your Grave' which is the biggest shove in your face this band have on offer, slowly building up to frontman Patrick Nissley's roar of "You will never change!" before immediately shifting into the breakdown mid-section which is as easy to dance along to as it is to start a mosh pit and cause havoc with, creating a moment that even the likes of Nine Inch Nails and Enter Shikari would be proud of. To keep a bit of variety with things, the record doesn't miss out on more mellow offerings, such as the 'Obsession', and the dark and moving atmosphere shining off from 'This Empty Love', leaving a bitter meaning behind what should seemingly be a typical love song. Though this album has many pros, it also doesn't go without its cons, namely the big explosively strong songs at the beginning of the record, before failing to let up quite as well until you're just halfway through the album.
InnerPartySystem are almost undoubtedly going to swell and grow dramatically if they're given the proper break to do so, and their debut gives evidence that they deserve such recognition and attention, with its strongest moments easily making up for those slightly weaker ones.
Written by Zach Redrup