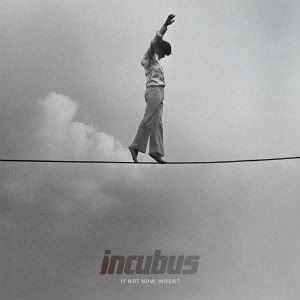 Release Date: July 12th, 2011
Label: Epic Records
Website: www.enjoyincubus.com
MySpace: www.myspace.com/incubus
Rating:

Much has changed in the Incubus camp over the years. From the nu-metal stomp of 'S.C.I.E.N.C.E.' to 2006's hugely diverse 'Light Grenades', the departure of bass player extraordinaire Dirk Lance seemed to mark a transition for the band as they began to mercilessly explore and experiment with their sound. Now, back from a relatively large break between releases, Incubus have once again provided their fans with a challenge as they offer an album which displays another marked modification in sound.
What is obviously apparent is that 'If Not Now, When?' is a rather downbeat affair. The sound for the most part is devoid of any aggression that was present in their past work, and the songs are content to casually drift along at a moderately relaxed pace. Indeed, the instrumentation, utilizing largely subdued clean guitars, delicate pianos and meandering bass work remains throughout the album extremely cowed and inoffensive. Although the tracks are, of course, executed flawlessly, the lack of any grit and muscle from the guitars, or for that matter any of the instruments, means that the release may become for many a fairly monotonous listen, the little variation in tempo and mood differing too far from the usual fare that we are used to from Incubus.
Yet, these restrained backdrops do serve perfectly for singer Brandon Boyde to showcase his standout vocal ability, which he does here with great aplomb. The opening title track is a perfect example of this, as Boyde weaves sumptuous melodies over a steady rhythm section and some pleasantly picked guitars. The same can largely be said for first single 'Adolescents', which quickly erupts into a soaring chorus replete with some bubbling, delay soaked leads. 'In The Company Of Wolves' is a subtle acoustic ballad that hangs on Boyde's vocal delivery before a rather sinister bass led outro, while the albums most energetic track, 'Switchblade', injects a certain groove and danceable quality into proceedings, a nice change of pace on a release where, as I have already stated, there are very few.
Ultimately, 'If Not Now, When?' is a collection of solid, if unremarkable songs. With a handful of memorable melodies and some fleeting moments of beautifully crafted instrumentation, the minimalist atmosphere of the release could prove tedious, and true album highlights may be too few and far between to be able to label this a genuinely great album from Incubus. Asking a lot from their fans, it remains to be seen whether this further shift will be one step too far for the band.
Written by Tony Bliss