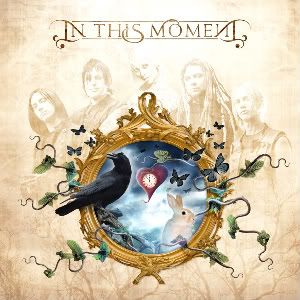 Release Date: April 13th, 2009
Label: Century Media
Rating: 7/10
Website: www.inthismoment.com
MySpace: www.myspace.com/inthismoment
In This Moment are often known – and remembered by fickle listeners – due to lead vocalist Maria Brink, her combination of high-pitched banshee screams and growls combined with her melodic and harmonic vocals keeping a easy-to-recognise mark on the band's material.
After the bludgeoning juggernaught that was brought upon us with previous album 'Beautiful Tragedy', sophomore album 'The Dream' from In This Moment takes a step back from the darkness, into a lighter hard rock approach. Lead single 'Forever' is an instant display of this change, bringing heaviness to a minimal and showing the talent of this band with less force. As ever with In This Moment, guitar solos offered from Chris Howorth are as exceptional as ever, such as that shown in 'You Always Believe' and 'A Dying Star', making sure that Maria doesn't always steal the show from the male latter. 'All For You' is another strong point in the album, giving the perfect blend of harmony and musicianship to prove evidence enough of this band's progression from their 2007 debut. Things are also made much softer than they ever really were on their previous effort. The album's title-track is a perfect example of the melodic metalcore 5-piece being a little too melodic to keep the second-half of that genre classification. But, as they approach the more shallow regions of heavy water, they also hit the deeper ends with the likes of 'The Great Divide' and 'Her Kiss', showing the full potential and reckoning held in Maria's throat-scraping vocal work. With all this in place though, and the great variation and evolution this band have clearly gone through, 'The Dream' just seems on the end of it all to be an album that can be over-played pretty quickly.
'The Dream' is definitely an album to be sought after if you have their previous effort, or if you're just a general fan of melodic metalcore. But don't expect this album to be stuck on repeat in your CD player for months on end.
Written by Zach Redrup