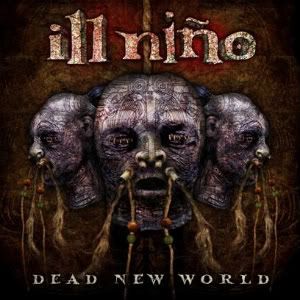 Release Date: October 25th, 2010
Label: Victory Records
Website: None available
MySpace: www.myspace.com/illnino
Rating:

Ill Niño have been around since 1998, and 2010 sees the release of their fifth album 'Dead New World'. They are one of the bands that thrived in the nu-metal explosion, and managed to get a huge underground following which is still almost cult-like. Although the following is extremely devoted to the band, their last album 'Enigma' was disappointing, and as a result some people wrote them off and put it down to the nu-metal genre being officially dead and buried. However, Ill Niño have shown with 'Dead New World' that they are far from over, and are still sticking to their guns. Their blend of tribal drums, metal vocals and heavy riffs are still there, and this time they work better than in 'Enigma'. Their music still doesn't work as well it used to though.
The album kicks off with 'God Is Only For The Dead', and it's a furious opener. Cristian Machado instantly screams at the start of the song, and the guitars are typical Ill Niño: chugging, riffing and melodic at parts. It doesn't take long for the tribal aspect to flow into the song, 40 seconds in and a tribal drumbeat along with softly strummed guitars surface, and it's reminiscent of their very earliest material. If only this was the case with the rest of the album.
Ill Niño are known to be an angry band, but some tracks on here are not angry at all, they're just generic alternative metal. An example is 'Serve The Grave', the song may be a heavier track than others but it doesn't really slide into the mix. The chorus is sung but it is overlapped with harsher vocals, which make it sound as if Ill Niño have tried too hard making this song as heavy as they can without combining other genres. 'Ritual' falls prey to this weak technique too. It has good points but the chorus is once again a let down, and sounds rather standard and repetitive. 'Against The Wall' sounds like a rip-off of Sevendust, which maybe has something to do with Clint Lowery of aforementioned band co-producing 'Dead New World'. Essentially what Ill Niño have done is basically put their trademark tribal drums over a Sevendust track.
However, the album isn't a total letdown. There are still some tracks that are fairly enjoyable if you can handle the constantly over-used anger throughout the album. 'How Could I Believe' is a fantastic track that has some solid music behind it, that while to some extent is simple, features a modest amount of technicality in the chorus and properly fits the atmosphere the lyrics and vocal performance give off. A surprising track on here is the cover of the Smashing Pumpkins' track 'Bullet With Butterfly Wings'. The original is good, and this cover version stays true to that level, except it's slowed down and Machado's unique vocal style has been replaced with a straight forward singing voice with a scream appearing during the guitar solo and its close. The band's signature drumming is also there, which actually greatly compliments the music instead of simply feeling tacked on like one would expect at first.
'Dead New World' isn't a complete failure, and it will find solace within Ill Niño's dedicated fans. However if you're new to them, don't let this be your introduction to the band. Invest in their older stuff, and slowly wean yourself into this. 'Dead New World' is exactly that: a dead world, because Ill Niño are playing a genre that is now dead and it is a new world because, well, it is a new album to add to their growing discography. Perhaps it's time for the band to get out while they can, without hindering their reputation any further.
Written by Rhys Milsom