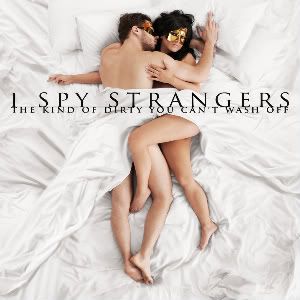 Release Date: May 2nd, 2011
Label: Second City Sinners Records
Website: www.ispystrangers.co.uk
MySpace: www.myspace.com/ispystrangers
Rating:

For about five years now, I Spy Strangers have been quietly and patiently building up their reputation. For anyone who has seen them live, you will know that they are an electrifying prospect bursting with energy and enthusiasm. So for many, their debut album 'The Kind Of Dirty You Can't Wash Off' comes at a large disappointment. Instead of channelling their energies into making that kind of record, they appear to be playing a game of 'How many times can you rip-off The Blackout in the space of 42 minutes?'.
At times they come off as if they are trying too hard, on 'Drink Up Kid, We've Got A Revolution To Start', for example, comes across as more of a filler song, which is a shame seeing as it's only the second track on the album. Songs like 'Kill The Lights' and 'Tonight's The Night' sound like they could be so much bigger with the added screams that the band used to be partial to. Unfortunately, this is a problem for the band throughout. As they keep the screaming to a minimum, Mikey White's occasionally monotone is left to stand on its own, and often comes up as too weak compared to the squeaky riffs being played behind it.
It's not that the band doesn't know how to write big pop-rock/post-hardcore tunes, because the crunching riff of the album's title track says otherwise, but it's the fact that they sound too much like everything else that the British scene has put out in the last two years. For some it may be the defining sound of British music, an amalgamation of all the sounds, but it just sounds like they have hashed together what they could to make an album that will sell.
Fortunately though for the band, their saving grace may come in the form of The Blackout's luminous coloured front man, Sean Smith. He has always taken a shine to these boys, and on the slightly above average 'Hide And Seek', he also lends his vocals to the cause. This is a point which proves that the screaming makes this track slightly better already, as does 'A Wolf Against The Lovers' before it fizzles out.
The band must be given full marks for effort; there's no doubt about that. They are still a young band trying to find their feet in the scene, so they must be excused for some flaws. However, if they want to progress further, and there's no doubt that they do, they will either have to refine their sound to pure pop-rock or go back to their more post-hardcore roots as currently their sound comes across as timid, unsure and slightly dull. With friends in high places though, I'm sure this album will do wonders for the band and they're definitely ones to keep an eye on over the next few years. Fans of The Blackout, All Forgotten and You Me At Six will not want to miss this album.
Written by Oliver Thompson