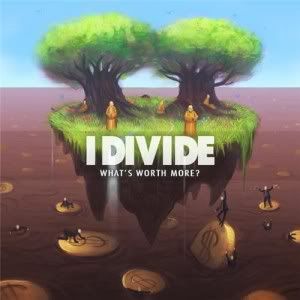 Release Date: October 9th, 2011
Label: Unsigned
Website: None available
MySpace: www.myspace.com/idivideband
Rating:


This unsigned Exeter five-piece have pulled out all the stops with this nine-track album in a bid to put themselves on the map, and this consistently catchy 'nine-track' looks set to do just that. Right from the get go, it's very clear to see that I Divide are a band with so much on offer.
The introduction and opening song convey complete versatility from this band. The opening builds to a 'synthy' crescendo to a flawless acoustic guitar build-up, which then blasts into a guitar riff, very comparable to Daft Punk's 'Aerodynamic', which then fluently erupts into a full rock riff and the start of 'The Arrival', and these guys have arrived in style. This track has all the makings of a perfectly catchy pop-punk song, with just a slight slice of hard rock to give I Divide a rougher edge, but without compromising the clean cut sound, the production values make this album an absolute pleasure to listen to, and this is a band who make their mark.
Throughout the album, Henry Selley, Josh Redford and Kristen Hughes command the string section perfectly; 'Burning Out' just epitomises the talent on offer here. Dave Mooney has to be one of the country's best up-and-coming drummers based on his performance throughout the album too, flawless rhythm, intricate tempo changes and time signatures, no more notably than in 'This Ship's Going Down'. It would be impossible to review this band without commenting on the flawless vocals of Tom Kavanagh, with a voice as consistent and catchy as Jordan Pundik (New Found Glory), but with a similar edge to that of Lower Than Atlantis' Mike Duce; the kind of vocals which make every song as infectious as the last. The backing vocals are not to be sniffed at either, the harmonies are very easy on the wars.
I Divide are a band with a completely unique sound, and 'I'll Never Be Stopped' and the album title-track 'What's Worth More?' are the perfect way to end this very strong album. This is a very impressive album release from the unsigned quintet. They sound like they have been doing this for years and hopefully they will be for years to come still.
Written by Gary Cassidy