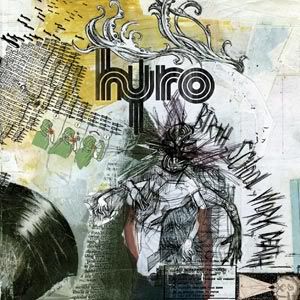 Release Date: April 4th, 2011
Label: Stereo Bang Media
Website: www.hyrodahero.com
MySpace: www.myspace.com/hyrodahero2
Rating:

Hyro Da Hero has a lot to say on his new album, 'Birth, School, Work, Death', and from the sounds of it, he isn't out to make friends. Over the 11 tracks on offer here, the rapper attacks everything from modern hip-hop to the government to the cult of celebrity. Oh, and Lil' Wayne too. It's quite a statement, bombastic rap rock with a serrated edge. Luckily for Hyro, for the most part he hits all the right notes.
'Birth, School…' as an album feels more like a genre showcase for the rapper. There's straight up hip-hop ('Man In My City'), Rage Against The Machine-esque riot rock ('Ghetto Ambiance', 'Sleeping Giants') as well as tracks with more mainstream radio appeal ('A Conversation With Hip Hop', 'Beam Me Up Scotty'). It's an eclectic mix that can make the album feel disjointed at times when the style shifts, but Hyro is a more then capable MC which helps to hold the experience together.
The stronger, more memorable moments on the album are when the band and backing musicians show their skills. The sound mix on 'Grudge' is very interesting, with a synthesis of electronic noise and epic organ chords on the chorus which gives the song real gravitas, while the downplayed roughness of tracks like 'Sleeping Giants' helps to bring the rawness of Hyro's sound to the front. 'Ghetto Ambiance' is given an added element of danger and passion as the band, which is made up of members from At The Drive-In and Blood Brothers, are let loose to thrash their guitars and lose their shit with minimal interruption from the hip-hop and pop elements that at times dominate, and this is when Hyro's music shines brightest. Regardless, the whole album has a palpable energy, a barely contained excitement and fury that Hyro spearheads with his vitriolic lyrics. The Texan frontman sounds like he attended the De La Rocha School of Politi-rock and graduated with a distinction. Close your eyes and focus on those lyrics and that delightfully raspy bark, and the RATM undertones are clear to hear. It is quite refreshing to listen to an artist so sure of themselves, and so damn furious.
Occasionally, Hyro does miss the mark. Where as, say, the lyrics to 'A Conversation With Hip Hop' have an air of maturity, of knowledge about the subject and a genuine passion, on other tracks his words lose some of their weight. Sometimes it feels like the rapper resorts to that which he is vindicating in tracks like 'Grudge' and '…Hip Hop': overblown posturing, egotism and "cussin'" to get his point across. Admittedly it works, and the music is still very enjoyable, but for an artist wanting to put across a message as strong as Hyro's, he runs the risk of having to eat those words when success comes knocking, and with lead single 'Ghetto Ambiance' currently in heavy circulation on music channels like Scuzz, it seems like it is only a matter of time before his music finds a mainstream audience.
Overall though, 'Birth, School, Work, Death' is a great offering from the Texan upstart. It's riot music for the 21st century; 11 galvanising tracks shot through with precision and focus. Hyro's dissatisfaction at the state of the world he lives in and the venom he spits in his lyrics makes for a refreshing listen that will surely provoke and inspire a will for change in its audience. Even removing this, the music that backs it up is so raucous and powerful that the album is still worth checking out, even if you have no interest in 'music with a message'.
Written by Grant Bailey