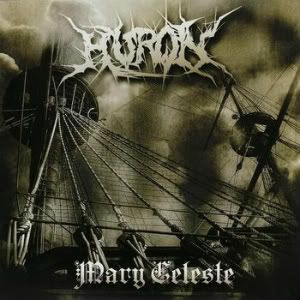 Release Date: May 30th, 2011
Label: Rising Records
Website: www.huronuk.com
MySpace: www.myspace.com/huronuk
Rating:


Huron are a band doing their best to drag metal back to its hay day. Comparing them to metal goliaths such as Pantera and Metallica sounds like music journalism suicide and I've probably upset a lot of people with that last sentence, but after a few listens I defy anyone not to make the same comparison.
Hailing from "way down south" according to their MySpace (which is actually Truro in Plymouth), Huron make full on head banging metal. Favouring gigantic riffs, solid drumming and Hatfield-esque vocals over the more technical sounds of today's metal bands, you'd be forgiven for thinking they have been making music for the last two decades. However, 'Mary Celeste' is only the second album to come from the band.
Everything about Huron screams old school metal. 'Blood In Blood Out' makes use of those stereotypically theatrical wavering vocals that are so popular amongst the super groups that they have clearly taken inspiration from. Don't let this put you off though. Even if you aren't a fan of old school metal, there are enough savage break downs and ear splitting wails throughout the record to get the fuck down to, especially on tracks such as 'Suffer' and 'Disperse Or We Fire'.
'All My Gods' is a perfect example of Huron's signature sludgy riff work. Although technically brilliant, it's laced with a sort of Southern groove that makes it different and a slightly more interesting take on an otherwise repetitive trait of the genre. This is partly why the band have gained steady recognition and popularity over the last few years; they've taken a tried and tested musical formula and injected something different into it making for an addictive listen.
The last thirty seconds of 'Serpentswine' is a hair flinging masterpiece of excellent riff work and powerful drumming – get those devil horns in the air and whip that neck. 'Eternal Sea pt.1' is the album's comedown, just singers Palmer and Sims voices compete and compliment each other over acoustic guitar work and eerie atmospherics linger in the background. Palmer's smoky southern vocals are nothing short of captivating as he takes a break from powerful howls and throat rupturing screams.
Huron may be all too similar to the kings of the genre, especially if you love your metal old and groovy, and they may even be considered borderline offensive to try and impersonate them in this way. However, if you long for the sort of metal that can only truly be enjoyed if your hair reaches the bottom of your back and whiplash injuries were commonplace after gigs, you need to get Huron and their old time groove in your life and remember. Devil horns at the ready.
Written by Steven Potter